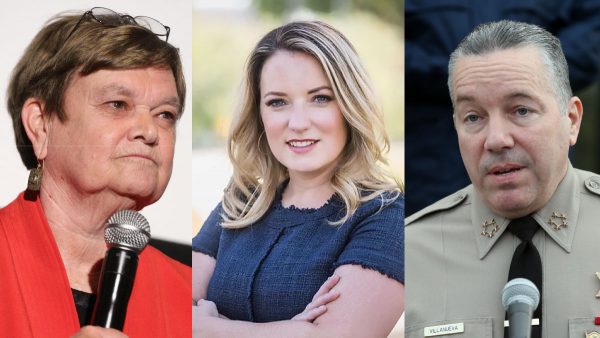 West Hollywood is preparing to fire a warning shot at the L.A. County Sheriff's Department in the wake of new claims that public funds and personnel have been used for "personal and political reasons," according to the staff report for next week's City Council agenda.
Last week, the Los Angeles Times published a story alleging that Sheriff Alex Villanueva was using a special unit of deputies to silence or intimidate "outspoken critics of Villanueva or the Department."
The Times accused Villanueva of targeting three individuals in particular:
Max Huntsman, L.A. County Inspector
Sheila Kuehl, L.A. County Supervisor, whose district includes West Hollywood
Patti Giggans, executive director of nonprofit organization Peace Over Violence and a member of the Civilian Oversight Commission, which advises the Board of Supervisors and attempts to increase transparency and accountability. 
​​"Both women are prominent lesbian community leaders and have a long history of service to the people of West Hollywood and the broader region," the staff report reads.
All three have been vocal critics of the sheriff, some even calling for his resignation and looking into ways he could be removed from office.
The sheriff's department is investigating Peace Over Violence over a controversial, publicly funded domestic violence hotline that very few have used. A recent Fox 11 report calculated that the program was costing about $8,000 per call. Giggans, the nonprofit's director, was appointed to the Civilian Oversight Commission by Kuehl.
The agenda item is sponsored solely by Councilmember Lindsey Horvath, who is running to fill Kuehl's spot on the Board of Supervisors and has already received her endorsement.
In a statement released concurrently with the Times report, Villanueva defended the unit's motives and action, saying "the sole responsibility of the Sheriff's Department is to investigate allegations of criminal conduct as they are discovered, regardless of how inconvenient it may be to the subject of the investigation.  The unit is supervised by the Undersheriff, and I have recused myself from all decision making to avoid any potential conflict of interest.
The item directs city staff to correspond with the sheriff and other departments relaying WeHo's opposition to funds being used in this way. It also demands a follow-up to a requested audit after the sheriff's department was accused of over-billing West Hollywood and other L.A. County cities for patrols that apparently never occurred.