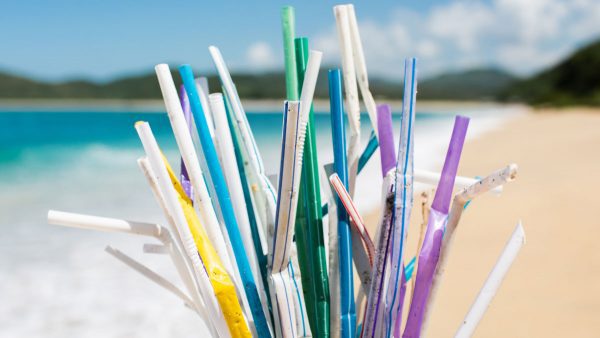 Proposed law would forbid restaurants from providing any utensil or container made of non-marine biodegradable plastic
West Hollywood is about to take the war on traditional plasticware to a whole new level.
City Council will vote Monday night on a proposal by Councilmembers Sepi Shyne and John Erickson that would ban all providers of prepared food and beverages from giving away plastic straws, utensils, containers, lids, cups, and any other single-use dinnerware items that aren't marine biodegradable. 
That includes dine-in, take-out and delivery.
State law already says restaurants and other food establishments can't give out plastic straws unless the customer requests them, and a new bill headed for the governor's desk will make it so for all other single-use condiments and food serviceware.
The West Hollywood ordinance goes a step further in forbidding them from being given out entirely — even if the customer requests them.
So how will WeHo roll out this brave new world?
That's up for city staffers to figure out.
The item, 2.O. on Monday's agenda, gives staff 60 days to come up with ideas; the item's authors suggest a six-month grace period to allow food providers to finish giving out the single-use plasticware they have in stock, as well as a public information campaign to assist businesses and the public in the transition. They also envision a list of compliant products to be published on the city's website.
West Hollywood made waves in 1990 when it banned polystyrene (Styrofoam) packaging, and was also one of the first cities to ban single-use plastic bags.
'MARINE BIODEGRADABLE'
The production of marine biodegradable plastics is a quickly evolving field in chemical engineering and a booming business for manufacturers.
All plastics eventually decompose. Depending on factors like exposure to sunlight, traditional plastic items can take up to 500 years to break down.
Marine biodegradable plastics decompose in about three to six months on average, but the science is still new, and there are many unknowns — even marine biodegradable items can damage marine life as they break down. Some experts fear the proliferation of biodegradable plastics will only encourage people to litter; others worry that biodegradable refuse will end up in standard landfills which are designed to prevent decomposition.
The general public lacks a clear understanding of what "biodegradable" actually means, and terms like "bioplastics" and "ocean-safe" are often used synonymously by marketers to describe products that don't meet the true standard. Companies that manufacture biodegradables are also facing growing accusations of  "greenwashing" — overstating the environmental benefits of their products. California has enacted strict regulations against greenwashing and has been aggressive in enforcing them. In 2018, the state received a $1.5 million settlement against Amazing for deceptive claims of biodegradability.
SANTA MONICA
In their agenda item, Shyne and Erickson point to Santa Monica as an example of cities that have successfully moved to ban single-use plastics. The city publishes a list of vendors where restaurants and other food providers can purchase approved products; it also provides a number of posters and flyers to help explain what is and isn't allowed, as seen below.