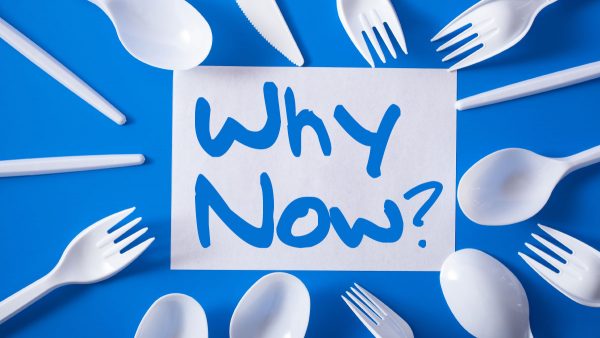 West Hollywood….our city council is at it again!  
Tucked neatly into the consent calendar for tomorrow night's city council meeting (a strategic move to avoid discussion, debate or dissension) is an ordinance put forth by Sepi Shyne and John Erickson that bans the use of plastic products in food service.  This means that restaurants, already overwhelmed as they attempt to keep up with new pandemic-related  operational guidelines, will have to allocate time and resources to sourcing replacements for the  single-use plastic straws, utensils, containers, lids, lid plugs, cups, bowls that were actually mandated during the pandemic.  And you can bet that the cost of suitable replacements for these items will be higher, meaning one more hit to the bottom line of these businesses that are already dealing with the huge losses of nearly two years of business interruptions resulting from the pandemic and the protests that closed businesses throughout West Hollywood repeatedly.  
Once again, the actions of the council raise the question, "Why Now?"  And why without any discussion or study? 
The issues of both the timing and lack of study of this ordinance are far more complicated than they may seem at face value.  First, restaurants are already having to make adjustments to their operations to adhere to a profusion of new guidelines coming at them from the state, the county and the city in response to the latest stage of the COVID pandemic.   Why would our city council add to their burden with a new ordinance now?  Santa Monica took two years to study and consider their food service plastic ban, and it certainly wasn't relegated to consent calendar.
 Second, there is a lack of clarity as to the benefits of the bioplastics recommended to replace the current plastic of the single use items. A growing body of scientific research suggests that the bioplastic alternatives recommended to replace the plastics currently used may not, in fact, suitably bio-degrade.  In fact, the headline of an article published in a 2016 issue of the UN Environment Programme reads "Biodegradable Plastics Are Not the Answer to Reducing Marine Litter.".  So why is our council ramrodding this ordinance through when we are lacking confirmation that the recommended alternative products are actually doing the job of reducing marine litter?  
Third, if you've opened a newspaper or listened to the TV news recently you should be well aware that Americans are facing shortages of cars, shirts, electronics, raw materials and many, many more products because of COVID-19 related manufacturer delays and shipping tie-ups. And these delays are driving up wholesale costs.   Until these issues are resolved businesses will likely face long delays and higher costs in procuring adequate inventories of the new single use replacement items.  Unless our council members have their heads in the sand, they are well aware of this issue and the impact it could have on our restaurant owners.    Shouldn't the council have taken this into consideration before pushing this ordinance through?
As was the case with the hotel ordinance, I am at an absolute loss to come up with any reason how or why our city council would propose such an egregious ordinance on our restaurants with no discussion or study and at this moment in time when they struggle to recover from a year and a half of tremendous business losses due to COVID. But it does appear that a pattern is emerging that suggests for our newer council members the rush to build a portfolio of "vanity" legislation to establish their own personal political identity and legacy supersedes any commitment to supporting our local business community as they fight to keep their doors open and their staffs employed in the face of the significant losses incurred during the pandemic.  
First it was the hotel ordinance.  Next it was the introduction of the new, higher minimum wage. And now we have a plastics ban impacting restaurants.  Three clear examples of policy (in a rather short period of time) that undercuts the pandemic recovery efforts of our businesses.   West Hollywood, I urge you to let our city council know that you do not support the passage of this kind of vanity legislation at the expense of the businesses and residents of our community.   Remember, government exists to serve the people, not themselves.  Demand accountability.
Keith Kaplan is a resident and property owner in West Hollywood for over 35 years.  This reflects his voice, not the voice of any other individual or organization.