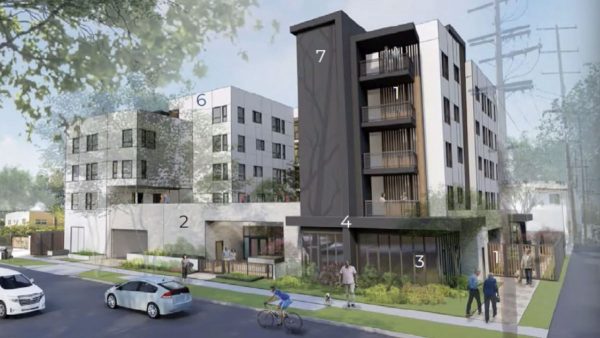 Details about a new five-story affordable housing development on Martel Ave. one block south of Santa Monica Blvd. were unveiled Wednesday at a lightly attended virtual neighborhood meeting. 
The complex will contain 50 units for low-income and special needs households making 25 to 80 percent of the L.A. County area median income.
Andrea Urmanita with KFA Architecture described the planned building and the developers' efforts to integrate it into a neighborhood of one- and two-story residences.
Clad in wood, metal and masonry elements, The Martel Apartments are designed upon the idea of a "communal U"-shaped courtyard on the second floor.  The building's facade will be pulled back from the street and landscaped with native, drought-tolerant flora. The northeast corner will serve as a "front porch" type of space, connecting residents to the pedestrian-friendly alley — all in the hopes of "building a strong community through connection," Urmanita said.
A mere handful of neighbors attended the meeting and even fewer came with questions.
"This is much larger than zoning in the area both in terms of height and density," Michael Garski said. "How does that work?"
Steven Spielberg with EAH Housing explained that state law allows 100 percent affordable housing complexes such as this to exceed the local zoning code. The Martel Apartments could have been as high as six stories, he said, but the developers settled on five.
"When are you going to evict the current residents?" asked another attendee.
Spielberg noted the preferred term — "relocating" — and said they don't expect to initiate the process until shortly before the beginning of construction, scheduled for March 2023.
"We won't start until we have to," he said.
The Martel Apartments are set to be complete by September 2024.