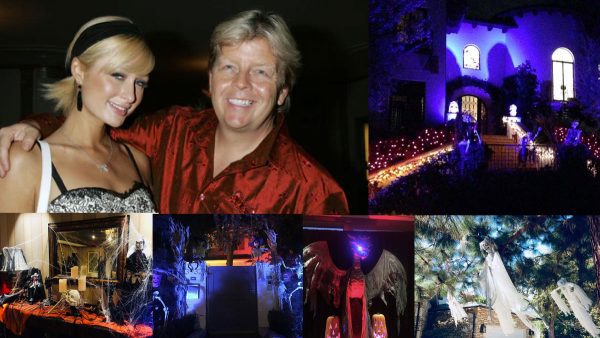 If there's something weird, and it don't look good … who you gonna call?
We suggest Doctor Halloween, a.k.a. Bob Pranga.
Pranga is known as one of L.A.'s most sought-after holiday decorators, having decked out the homes of celebrities such as Steven Spielberg, Paris Hilton, Heidi Klum and Leeza Gibbons.
But he's available for you and me, too. ("Anybody with a checkbook," he says.)
While some of his clients spend upwards of $35,000 on their festive decor, Pranga is all about making it work with the budget he's given.
The longtime West Hollywood resident just finished a dynamic new display for the Mediterranean Village residential complex where he lives. He chatted with WEHOville recently about his method, the latest Halloween fads and the insider tips any savvy decorator needs to know.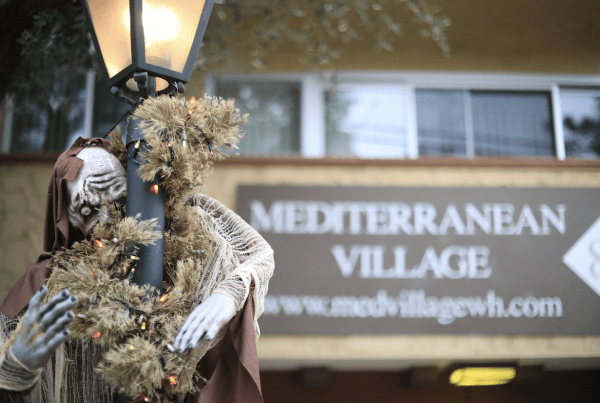 What's the Doctor Halloween procedure like?
We meet with the client or potential client and get an idea of what they want to have happen — is it for a party, is it for the kids, is it just to show off? And especially after the last year and a half, everybody's kind of in the mood to celebrate. So it's been basically, "I just need to party, I need to light up, I need to rejoin the world." And since people saved a lot of their funding, now they're just ready to spend it, because they just want to have that feeling of normality again. So we sit there and get an idea if they want a classical Halloween or do they want a Martha Stewart type of feel, or do they want it to be the psychopathic Halloween? And then after we decide on the theme, we decide what the budget is.My company is primarily custom so I try to work as best as I can with what the people want to spend it. After that we come over, install, maintain it, we come back and take it all down and put it away and off it goes. So I'm kind of a convenience industry in the sense that "We just want it, but we don't want to do anything."
How has Halloween decorating changed over the years?
Halloween has many subcategories now and it's become second only to Christmas as far as decorating — and I wouldn't be surprised at some point if it actually surpassed Christmas, because it's becoming very, very popular. I had people booking me in August. People haven't become fully trained like they have with Christmas and get it done way in advance, but we were putting up Halloween already on September 25th so it's becoming a month-long celebration.
What other services does the doctor offer?
We take care of it all. Nobody really wants to store Halloween anymore, and so the rental business has become very, very strong. And I've noticed this with Christmas as well — it's more like set decorating nowadays. We just come in, create a set and an environment and come back and take it all away.
What are some do's and don't's?
As far as Halloween it really I don't tell people what they should like. But for design purposes, if you want something to have more of a designer feel, have a running theme, rather than just a mishmash of things — just scarecrow here, a vampire there. It just has a cleaner design if you have a much more cohesive theme. Halloween is always similar to Christmas — it always looks better after dark. It's really about night time for Halloween. So the more cool you can make it look lit up, the better.
What about the safety issue?
It's the boring part nobody wants to deal with. But you really have to be conscious of the safety and the functional aspect of all the decor, because you are still dealing with a lot of electricity. You're dealing with flammable materials. Especially in California, you have to be very conscious of fire and so you want to make sure that everything is well secured, well grounded. And not all decorations are meant to be outdoors. So if you decide to put them outside try to give them some form of covering.
Favorite horror film?
I like smart horror films. They either have to be really smart or they have to be really sarcastic. So I would say probably scream is my favorite. It's got a nice mixture of everything.
What's your costume this year?
Unfortunately when you do Halloween, you don't get to do Halloween. We're decorating right up to the end and we're decorating Halloween morning so by the time you get home you're already planning on taking it down the next day. So unfortunately there's nothing happening in that department.
What's the big trend this year?
Halloween is always dictated by Hollywood. A few years ago when it was The Walking Dead, everybody wanted zombies. And then whatever the latest this year, it's Halloween again so everything's about pumpkins and jack-o-lanterns and the psycho killer type of feel.
What do decorators need to know ahead of the Christmas season?
Due to all the world issues the shipping and supplies are very minimal so we're scrambling to find things. So it's gonna be that way for Christmas too. I'm telling everybody "If you want Christmas decor and you see something you like, buy it now, because there probably won't be any extra.
Contact Dr. Hollywood/Dr. Christmas
https://www.drhalloween.com
https://www.drchristmas.com/
OCTOBERDECOR@GMAIL.COM
310-854-0886