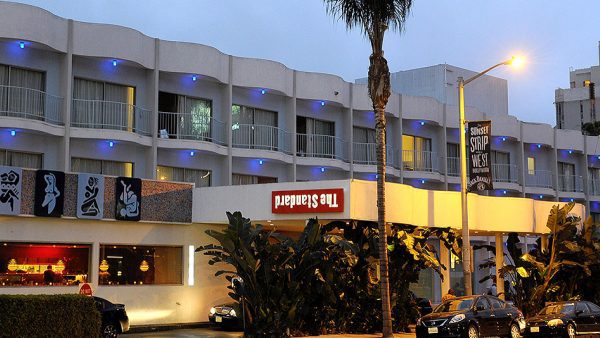 One of West Hollywood's most iconic hotels is now for sale.
The Standard Hotel at 8300 Sunset Blvd. has been closed since January after a hike in rent and the impact of the pandemic made it untenable for operations to continue.
The Standard's lease was held by the Ferrado Group, a real estate investment firm based in Spain with a location in Newport Beach. The group is no longer involved after a lawsuit was settled this past summer.
The hotel first opened in 1999 under the guidance of hotelier Andre Balazs. It has since grown into a chain of boutique hotels with six locations including downtown Los Angeles, Miami, New York and London.
Los Angeles historian Alison Martino reports the building opened in 1962 as the Thunderbird Hotel, then later changed its name to the Hollywood Sunset Hotel. In the 1970s, it became a retirement home called the Golden Crest and continued to be a retirement home until Balazs opened the Standard.
The Real Deal reports:
"The property is up for sale by the owner of the underlying real estate,", a spokesperson from the hotel operator's parent company, Standard International, said on Monday. "We are very hopeful to bring the hotel back to life as the Standard" with whoever buys the building.
Rittersbacher Sunset LLC has owned the land under the hotel at 8300 Sunset Boulevard since 1989, records show. The LLC is linked to Randy Garitty of Oregon.