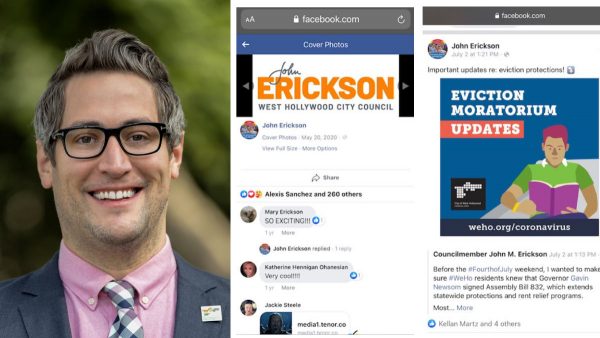 A West Hollywood resident filed complaints with the city and the American Civil Liberties Union alleging City Councilmember John Erickson violated the First Amendment by blocking his access to the councilmember's Facebook pages and restricting the ability to comment on certain posts.
West Seegmiller lodged his first complaint with WeHo City Clerk Melissa Crowder in an email dated Aug. 7.
"This message is to notify you of a serious violation of First Amendment protections of free speech committed by Councilmember John Erickson," he wrote. "On Thursday Aug 5th, Councilmen Erickson removed me from his Facebook page, thereby disabling my ability to comment. This is in clear violation of my Constitutionally protected right to engage in public dialogue on a Elected Official's media platform, as determined by the Fourth Circuit Court of Appeals."
Seegmiller included a quote from the American Civil Liberties Union regarding the court's decision: 
"Specifically, the court recognized that when a public official uses a Facebook page as a tool of governance — that is, when she uses it to inform the public about her government work, solicits input on policy issues through the page, and swathes it 'in the trappings of her office' — she is controlling the page as a government actor."
Erickson served as president of the ACLU Southern California, according to his campaign web page.
Seegmiller included screenshots from Facebook to demonstrate his allegations. The interfaces of these posts appear to lack the field in which users can ordinarily type and post comments.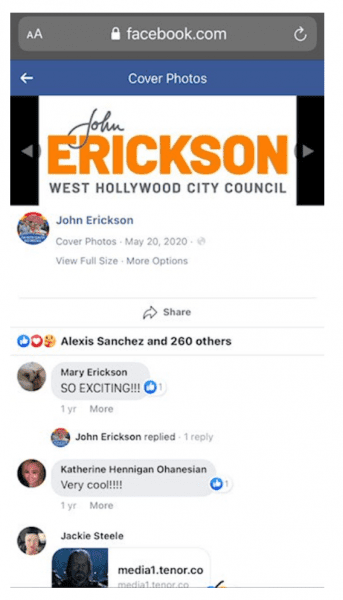 Crowder responded to the e-mail on Aug. 11, saying that Erickson had re-enabled comments on his posts.
On. Aug. 20, Seegmiller filed a second complaint, saying he was still unable to comment.
According to Crowder, the City Clerk's Office confirmed with Erickson that he hadn't changed any of his security settings in Facebook and that anyone was able to comment on his post(s). Crowder scheduled a Zoom meeting with Seegmiller and the City Attorney, and during the Zoom meeting Seegmiller indicated that the issue was resolved.
On Sept. 20, Seegmiller filed a third complaint with Crowder via voicemail. Crowder responded:
"We were unable to identify the alleged problem and asked you to share more detail on the posts.  You shared screenshots of a few posts that did not appear to have a comment option.  While the posts and comments that you were attempting to comment on were not necessarily directly related to City business, when made aware of this issue, Councilmember Erickson once again updated his security settings to enable the comments.
"Facebook's security settings are ever-changing and for many users they are confusing, and the privacy settings may even differ for each post depending on who is tagged and the tagged person's privacy settings.  The City appreciates and understands your desire to have full access to a Councilmember's social media content if those social media accounts have been used to convey City business or communicate about City business with constituents.  After your first complaint, Councilmember Erickson has diligently worked to ensure that his posts (even non-City business posts) allow anyone to comment. The City Attorney and I are satisfied that he has met his requirements under the law as a public official."
On Sept. 20, Seegmiller also filed a complaint with the ACLU, who conducted their own investigation.
In a public group comment and a private conversation with Erickson via Facebook Messenger, Seegmiller reiterated his accusations and alluded to several events of unknown veracity or relevance. Names in this conversation have been redacted to protect parties uninvolved in Seegmiller's complaints.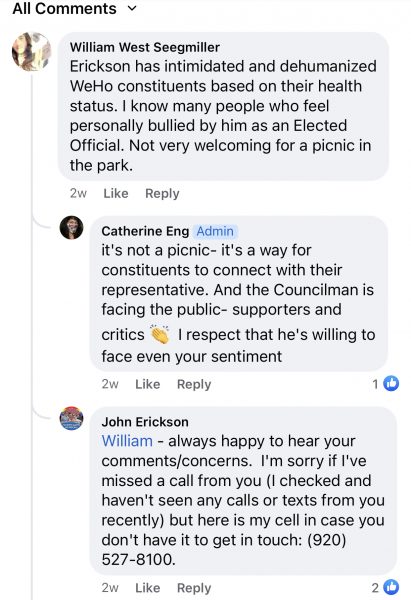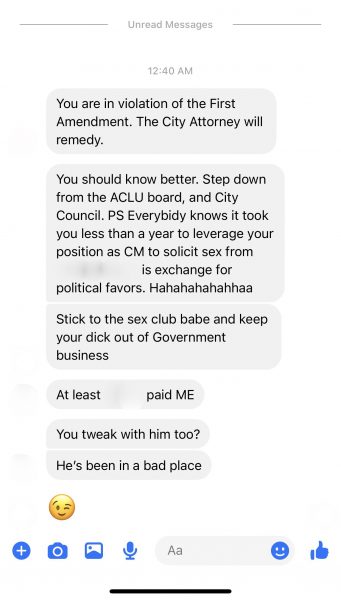 Note: The names above has been removed to protect the identity of a well known local board member and former city council candidate who is said to have had an affair with Council member Erickson.
All the documents referred to in this article were made public by a Freedom of Information Act request.
According to Seegmiller, Erickson has now complied with his requests, allowing complete public access to his Facebook page and comments.
---