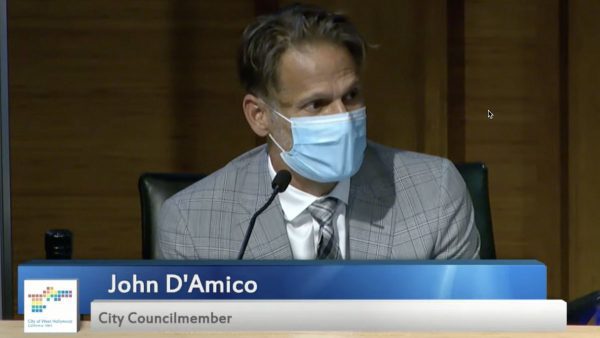 At City Council's first in-person meeting in more than a year Monday night, Councilmember John D'Amico upped the ante in the push to raise minimum wages in West Hollywood, the latest twist in a story the city's business and labor communities have watched closely all year.
City staff presented Council with the latest draft of a proposal that would ultimately increase the minimum wage to $15 per hour for all non-hotel workers by Jan. 1, 2023. Large businesses would be required to start paying their workers that amount a year ahead of small businesses. Additional yearly increases would be determined by consumer price indices.
A separate proposed ordinance mandated that the minimum wage for hotel/hospitality workers would rise to $17.64 per hour starting Jan. 1, 2022.
The proposal also gives hotel workers 96 hours of compensated sick time and 80 hours of non-compensated sick time. Employees in other industries would be given between 40 and 72 hours of compensated sick time, depending on the size of their employer. The amounts were designed to be in line with ordinances in Los Angeles and Santa Monica.
The new draft included a provision that excluded workers of dining establishments within hotels (such as the restaurant inside the Mondrian) from the benefits bestowed upon hotel workers.
Councilmembers rejected this distinction.
"When people say this is West Hollywood, I don't think that should mean you're treated differently no matter what sector you're in," said Councilmember Lindsey Horvath. "When you're in the same building, that shouldn't change how you're treated in terms of your pay."
Mayor Pro Tem Sepi Shyne advocated for unlimited uncompensated sick time for all workers.
"If COVID has taught us anything," she said, "it's that we must take care of health first."
D'Amico went a step further.
"I'm just not sure why we would have a different minimum wage for any employee," he said. "We should choose the highest one and make that what our minimum wage is."
"I don't think we should have a different wage tier for non-employees of hotels. I think that everyone should have the same minimum wage in our city."
D'Amico then made a motion to correct the imbalance, making the minimum wage of $17.64 apply to all workers in West Hollywood and nullifying the reservations surrounding the exclusion provisions. The motion would go into effect in January for hotel workers and in July for other workers. Staff was then directed to return with a revised ordinance at the next City Council meeting.
"Nothing will be implemented until our next meeting," D'Amico said, "but the assumption is that the items will come back to us as we discussed them."
Monday night's meeting marked the first time the City Council had convened in person in council chambers since the beginning of the COVID pandemic in Spring 2020.