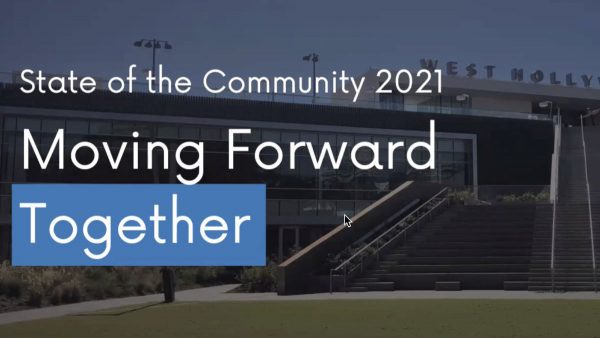 The City of West Hollywood held its first "State of the Community" meeting via Zoom on Wednesday night, featuring the full gamut of department heads rounding up their recent achievements and previewing the projects their teams have ahead of them.
"The state of the community is intended to give our community members an update on some of the major initiatives programs," said City Manager David Wilson, "but more importantly it's an opportunity to listen to issues and concerns of the community and answer any questions you may have."
THE BUDGET 
David Wilson, City Manager — dwilson@weho.org
Wilson began the presentation and revealed how WeHo is faring post-COVID.
"Initially, during this period we had projected about a $35 million deficit," he said. "As you can see here that number has gone down to closer to $17 million."
He credited the city's conservative approach to budgeting, along with additional revenue from the new sales tax and additional billboard development agreements.
"But we still haven't recovered," he said.
The city's current revenues stand at approximately $22 million, while expenditures hover around $33 million.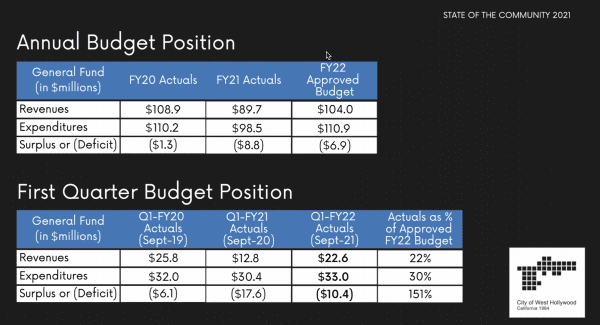 CITY SURVEY
David Wilson, City Manager — dwilson@weho.org
In the wake of a controversial private survey that ruffled feathers on City Council, WeHo is planning to conduct its own research — a "statistically valid" survey, as Wilson described it — as part of a new push to improve citywide safety. City Council will hold a special meeting Nov. 15 to discuss the topic.
TESLA SUPERCHARGER STATIONS
Ric Abramson, Community Services Department — rambramson@weho.org
"Our innovation manager and his team have been working on a new partnering venture called the WeHo + Tesla supercharger station, which will be the city's first electric vehicle fast charging station. These initial stations are expected to be launching in December. It's a pioneering effort that will include eight Tesla fixtures and four universal fixtures, with the intention to reduce greenhouse gas emissions and support the city's ongoing sustainability and climate action efforts."
PLUMMER PARK
Ric Abramson, Community Services Department — rambramson@weho.org
"Staff is working to create a temporary dog play area for Council consideration, so look for that to be coming very soon." In addition to Fiesta Hall Great Hall/Long Hall upgrades, "a longer term master plan revision effort for the entire park will be taking a fresh look at that revision in commencing in 2022. And for this longer term visioning we're anticipating forming a community based steering committee or advisory group."
SEISMIC RETROFITTING
John Keho, Planning & Development Services — jkeho@weho.org
"The building division and staff is working on a seismic retrofit program. The city understood that we need to become more resilient and improve and strengthen our building so that there will be less damage when the next earthquake hits, and also try to make it to where we can recover more quickly after an earthquake." The city council adopted an ordinance in 2017, requiring retrofitting of two types of buildings — apartments and one-stories, and larger commercial buildings. The department identified 821 total buildings. "We have a plan in which every one of those property owners need to submit documents to the city for review and if necessary, they'll need to renovate those buildings through a seismic retrofit project. In order to help our community building staff applied for and received a grant from FEMA, as part of their hazard mitigation grant program, an amount of $10 million. And with that money the city will develop a grant program to help property owners retrofit their buildings, and hopefully that program will start in the winter.
DESIGN DISTRICT STREETSCAPE
Jackie Rocco, Public Works Division — jrocco@weho.org
"This project will implement the recommendations adopted by the West Hollywood design district streetscape master plan. And this is an exciting project that is the project boundaries. Features of this exciting project include pedestrian and bicycle safety improvements, new pavement and sidewalks distinctive trees and landscape, as well as upgraded street furniture and street lights, along with smart city infrastructure installation that will include street electric vehicle charging stations and the utility under-grounding of many of the utility poles along Melrose and Beverly in Robertson Boulevard, south of Melrose as well to the Beverly limit. The first phase of this program will start later this year with the undergrounding of utility poles on Melrose between San Vicente and Doheny, with the next phase starting in March of 2022 when we will be working on Melrose between San Vicente and Croft. This project is expected to be completed by 2025."
VIRTUAL PARKING PERMITS
Jackie Rocco, Public Works Division — jrocco@weho.org
We are happy to report that we will be expanding the virtual parking permits program to add residential and guest permits. In September of last year, the Parking Services Division implemented the virtual visitor permits, which allow residents to obtain permits, using a portal that they can access from a mobile device or a computer to register the plate or plates of vehicles that need a permit. We started with the visitor permits, so that people could get acclimated to the way that the program works, and the electronic record then becomes the permit itself and the information is communicated to parking enforcement officers so that the vehicle with valid permit will not get cited. This process really improves overall customer service by allowing residents to obtain permits from the convenience of their home rather than requiring in-person visits to City Hall, or the Kings Road parking structure. Now the next step in the program will be to add the guests permits and residential permits making it possible for all the residential permits to be obtained electronically and eliminating permit hang tags or those permits that you have fixed on the windshield."
WEST HOLLYWOOD PARK
Steve Campbell, Facilities & Recreation Services — scambell@weho.org
"This project represents the largest capital project ever undertaken by the city. The new 75,000 square foot West Hollywood Park Aquatic Recreation Center will provide the community with additional green space and amenities for premier recreational fitness community, and social services, activities and programs. The project is finally nearing its completion and we anticipate a soft opening of the Aquatic Recreation Center before the end of this year. Staff will begin operating in a limited fashion, including some limited use of the pools and gymnasium, and likely some limited recreation programs."
BEHAVIORAL HEALTH CRISIS RESPONSE TEAM
Christof Schroeder, Human Services and Rent Stabilization Services — cschroeder@weho.org
"The city is exploring the development of a behavioral health crisis response team which we provide first responder type service for mental health crises for both house and unhoused community members in West Hollywood. Staff continues to gather information and study best practices from other similar programs, relevant city commissions and advisory bodies. A follow up item on this will go before the city council on November 15."
GUARANTEED INCOME FOR LGBTQI OLDER ADULTS
Christof Schroeder, Human Services and Rent Stabilization Services — cschroeder@weho.org
The city is working toward the launch also have a guaranteed income micro pilot program to provide a guaranteed income to LGBTQI older adults in West Hollywood. The program will provide $1,000 a month for 18 months to 25 residents. More information will be available regarding the application process in late December and or early January city funds will not be used for the fund disbursement staff are pursuing other government and philanthropic funding for those costs."
MICROBILITY PROGRAM (ELECTRIC SCOOTERS)
Robin Eason, Long-Range Planning Division — reason@weho.org
Coby Wagman, Parking Services — cwagman@weho.org
"We've been scheduling a number of pop ups at the farmers markets with the providers to talk about safety and the use of devices, and how to use them throughout the city. We also are in the process of stalling signage at the various existing designated areas for scooters, and as we continue to expand the program will have signage throughout the city that promotes safety and proper ridership. We're also working on establishing regular demo or outreach events with the different providers. The idea is to alternate between the west and east side on monthly intervals, as well as our field team is about to begin doing safety pop ups where they're going to park around the city and they will do some informational campaigns and hand out helmets to riders that are interested, or may look like they they need one. We continue to expand our parking stations that are accommodated by parking signs as well as we've just installed signage at different advertising panels throughout the city."