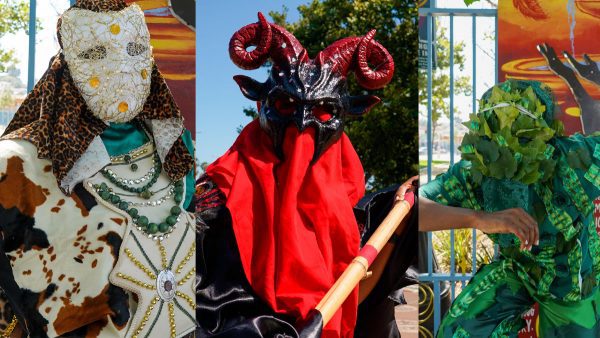 International Eye LA will present Jonkanoo in the Streets of WeHo on Santa Monica Boulevard, between Robertson and San Vicente, on Saturday October 30, 2021 from 10 p.m. to 12 a.m.
First documented in Jamaica as early as the 1700's, the art form is steeped in African traditions with strong influences from European masquerade traditions and the grand masquerade balls brought to the Caribbean by French planters.
Forbidden to engage in the elaborate holiday masked balls of slave owners, they created their own entertainment. Played by all men, they developed characters such as Queen, Devil, Pitchy-Patchy and Belly Woman travelled across many plantations with live music, dance and pantomime to parody European lifestyles, comment on their own condition, and generally mock the planter class.
'Jonkanoo in the Streets of WeHo' will present a roving band of masquerade characters in original costumes by award winning designer Marie Kellier accompanied by new music composed by Grammy Award winning musician, Doc Ric Wilson of the group Mandrill.
While maintaining the unmistakable sounds and unique characters that differentiate Jamaican Jonkanoo from other Jonkanoo traditions, the presentation will blend sound, movement and images to introduce the art form to the West Hollywood community. The larger project, 'History, Artistry and Presentation of Jamaican Jonkanoo' is being developed by artist Marie Kellier and is supported in part by an organizational grant from the City of West Hollywood Arts Division. Alliance for California Traditional Arts (ACTA,) California Arts Council (CAC) and LA County Department of Arts and Culture. For sponsorship opportunities or other information call International Eye LA (213) 761- 4475 or email internationaleyela@gmail.com.