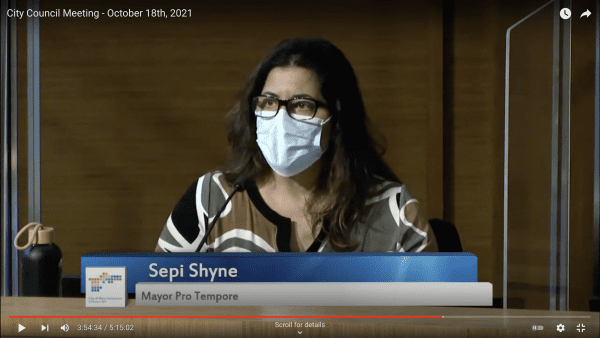 Councilmember John Erickson and Mayor Pro Tem Sepi Shyne authored an item on Monday's agenda that added restrictions on members of the public who are serving or want to serve on the city's nine Commissions. 
City commissioners — each selected, vetted and appointed by one of the five city councilmembers — wield significant influence and hold crucial responsibilities, including reviewing policies, hearing appeals, and making recommendations to City Council. The positions require many hours of work and are unpaid.
The proposal would add a background check to all appointed officials. The intention, as the agenda item reads, is to "ensure applicants are able to responsibly and appropriately represent the City of West Hollywood in their capacity as appointed officials and have not been convicted of a violent or serious crime that is in opposition to the City's core values."
The city currently performs background checks on employees, and the proposed background checks for appointed officials would be handled in a similar way.
An applicant would be disqualified if they have been convicted of a Part 1 crime (including murder, sex offenses, robbery and aggravated assault) within the past 10 years. The background checks would not apply to potential members of advisory boards.
The proposal also sets the stage for a more formal interview process, with possible input from the City Clerk and/or a special subcommittee, and limits the time a person could serve on a commission  to a maximum of eight years.
Councilmember Lindsey Horvath announced quickly she would not vote for the proposal.
Mayor Lauren Meister approved of the term limits, but believed a more detailed application was needed in order to produce more dedicated applicants. 
John D'Amico advocated for an orientation session to be offered to all new commissioners, but opposed the idea of mandatory background checks on potential appointees.
"If there are people you've appointed you want to know more about, you should do that," he told Shyne. "I just don't want to be surveilling the people in our city."
She disputed D'Amico's assertion that commissioners were serving purely as volunteers.
"These are not volunteers, they're city officials," she said. "Their decisions make an enormous difference. They're held to a higher standard. It's important for us not to be embarrassed later if we find out something we would have wanted to know."
Meister motioned for a more detailed application, a one- to two-hour orientation, an eight-year term limit, a background check for potential commissioners, and a request for staff to recommend more criteria for applicants to the Planning Commission and Historic Preservation.
The motion passed 3-2, with D'Amico and Horvath voting against it.