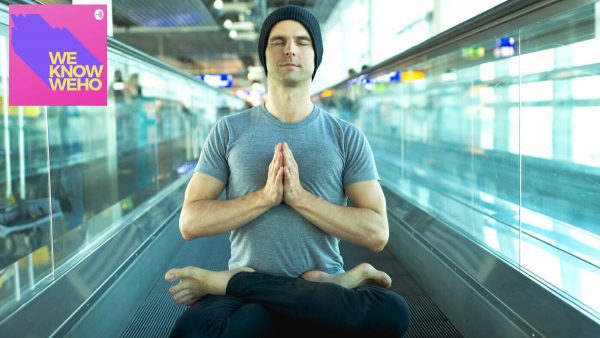 Fitness appears to be the business category to have taken the biggest hit in West Hollywood as far as physical storefronts that closed their doors due to the pandemic.  However, as the saying goes, when one door closes another one opens.  Over the past year, West Hollywood has seen a handful of new fitness businesses popping up and this week's featured guest on We Know WeHo is the most recent to open its doors.
Garth Hewitt is the founder and owner of Shiva Yoga Practice that opened its first physical studio in West Hollywood within the past two months. Garth fell in love with the yoga community he discovered in Santa Monica many years ago at Yogaworks and found a mentor in Master Yoga Teacher – Annie Carpenter.  Several hundred hours of training and a free class taught by Garth on the bluffs of Palisades Park lead to a devoted career as a Teacher Trainer, Yoga Therapist, and Certified Yogaworks & Dharma Yoga Teacher.  He is world renowned for his classes, workshops, retreats and teacher trainings – now all available at Shiva Yoga on Fairfax.
Shiva Yoga is located at the former Yogaworks space at 1067 N. Fairfax, and has a very lofty New York City vibe with the brick walls and loft ceilings. There are a number of classes offered in Garths' signature Shiva Yoga® style of yoga as well as flow, power, restorative and Nidra meditation classes. Virtual classes are also available if you prefer your namaste at home through the online platform that also houses a vast library of on-demand classes. Tracy's insider tip is the restorative or "stretch" class – great and necessary for all levels!
Maxine is back in the co-host seat for this week's episode and she and Tracy run through the DineLA participating restaurants in West Hollywood with a lean towards the brunch/lunch menu offering from E.P. & L.P with a choice of waffles and fried chicken or steak and eggs for the main course. They both had a chance to check out Justin Queso's, WeHo's newest TexMex restaurant on the Sunset Strip, and are head over heels for the churros with chocolate AND caramel dipping sauces!
Congratulations to We Know WeHo podcast for their nomination in the Creative Communications category for the 37th West Hollywood Chamber Creative Business Awards being held on November 17th at the 1 Hotel.
Be sure to follow us on Instagram @weknowweho_official and subscribe where you listen to podcasts on Apple, Spotify and Google.
Fairfax District:
* Whole Foods
* Grain Traders
* Candle Delirium
* Just Food for Dogs
Halloween Happenings:
* Melrose Rooftop Theatre
* Hauntoween
* Night of the Jacks
DineLA in West Hollywood:
* Conservatory
* EP & LP
* Gracias Madre
* Granville
* Hugo's
* Justin Quesos
* La Boheme
* Tesse
* Weho Bistro