By Barbara Meltzer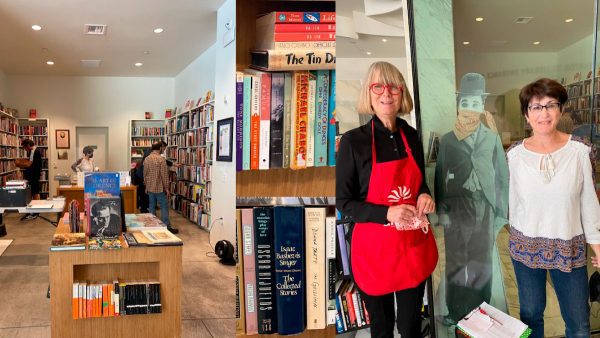 Shuttered for 19 months due to the pandemic, the Friends of the West Hollywood Library Bookstore is once again open to the public.
Friends' Board President Linda Demmers arrived early Saturday morning and found 20 boxes of cookbooks stacked outside the store – – a great opening day gift.
When Demmers got the word the store could re-open, she and two fabulous and devoted volunteers, Susan Sazer and Dave Kinnick got busy sanitizing, organizing and refreshing all the shelves and books.
In recent weeks, the store received an extraordinary donation of over 6,000 books from famed actor Michael York and his wife Pat, a well-known writer and photographer. According to Demmers, the collection includes extraordinary books about art, photography, history and more. They will be sold in the bookstore in the coming months.
"Staff Picks" is a wonderful new addition to the store as is "Special Items," a section that includes copies of books whose authors have won the Nobel, Man Booker or Pulitzer Prize.
The Friends of the West Hollywood Library supports the informational, educational, recreational and cultural programs and services provided by the Library for all library customers. A 501 (C)(3), the library hours are Tues. – Thurs., 1:00-5:00 pm and Sat., 10am – 5 pm.
For further information call 323-929-2359.