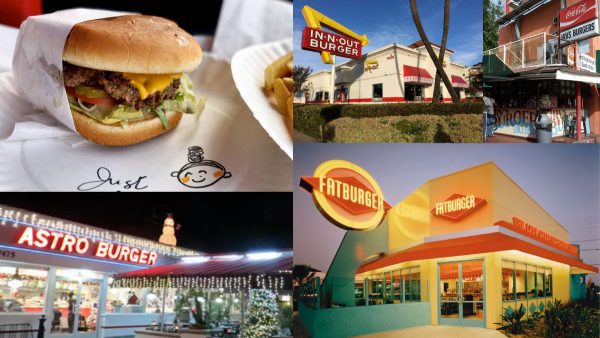 Passing the Shake Shack on Santa Monica reminds me how burgers have grown fancier and more expensive since I moved to WeHo 50 years ago. Still, we have plenty of options in the city and in the surrounding area so you don't have to drive far to indulge your burger craving.
I found my personal burger heaven just a few months after moving to West Hollywood when Astro Burger opened on Santa Monica. The earliest version of this eatery was take-out only. I remember standing in line behind Peter Fonda, who I had a huge crush on after seeing "Easy Rider." Astro Burger was pretty busy from the start and later added a room for sit-down dining. My favorite splurge from Astro Burger is the patty melt on rye with grilled onions and a side of fried onion rings. By the time I get this feast home, there's always a greasy print at the bottom of the bag, a sure sign that something delicious but not especially healthy waits within.
I discovered Fatburger in the mid-seventies when I had PR clients that were totally hooked on the place, especially late nights after a show. The burgers were suitably fat and sloppy but were never really my favorite. About the same time, I was introduced to a restaurant on Highland called Hampton's which was a favorite of the music business crowd. The main attraction of Hampton's was that they cooked every burger to order and offered a large selection of condiments. Alas, Hamptons closed many years ago.
While some burger chains make a varied and frequently changing menu part of their appeal, one of SoCal's most successful has thrived on simplicity. For decades, the In-and-Out burger locations have all had the same handful of items with no "new" specials or seasonal offerings. Obviously, this formula has worked for the chain since it keeps expanding. For years, there was no In-and-Out in the WeHo area so I had to indulge my cravings when I was in the Valley, but we finally got a location nearby, a few blocks outside the city limits on Sunset Blvd. next door to Hollywood High. As though this intersection wasn't congested enough, In-and-Out has cars lined up bumper-to-bumper just about any time. I lived around the corner from this burger joint for a couple of years and made regular visits until moving back to central WeHo. Just avoid the place when classes get out at Hollywood Hgh.
This brings me to the most beloved and iconic of our city's burger emporiums – Irv's Burgers. Immortalized in a David Lee Roth song and on the inner fold-out of Linda Ronstadt album cover, Irv's stood near the corner of Santa Monica and Sweetzer until encroaching "progress" forced owner Sonia and her family out of the compact property. I live close enough to the old Irv's to have gotten delivery so I especially miss their yummy burgers served in bags that Sonia decorated personally for each customer. Irv's, you are loved and missed.
No burger aficionado will mention McDonald's as the most outstanding example of the dish but the gargantuan chain remains a guilty pleasure, the place to go after a night out when you want fast and easy – or everything else is closed. The hazardous drive-through at Crescent Heights and Sunset was a popular stop after a night on the Strip and will be missed when it falls to the wrecking ball, which could happen any day now.
Aside from hard-core vegans and health nuts, who doesn't love a good burger every now and then? Unfortunately, getting your burger fix in WeHo costs a lot more than it used to.