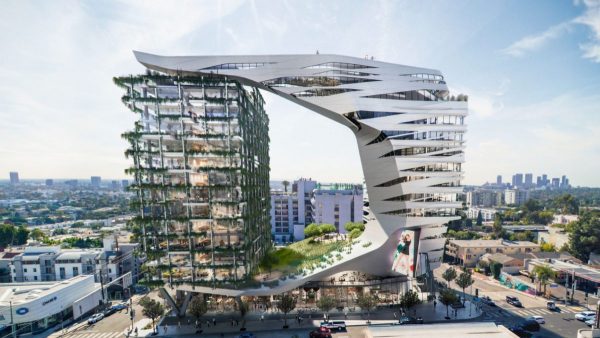 Planning Commission Discusses Draft EIR for 8850 Sunset Project
The West Hollywood Planning Commission held a public discussion on Thursday night to review the latest draft Environmental Impact Report for a much talked-about large-scale project on 8850 Sunset Boulevard, which consists of a 15-story mixed-use hotel and residential building between Larrabee Street and San Vicente Boulevard.
Prepared by the City of West Hollywood and environmental consulting firm Dudek, the draft EIR highlights potential issues and mitigation strategies for this project. Per state law, The California Environmental Quality Act (CEQA) requires state and local agencies to evaluate and consider the environmental impacts during the decision-making process.
According to the draft EIR, the developers' goal is to revitalize an underutilized block on the Sunset Strip. Currently, four commercial buildings that house a variety of businesses, including the iconic Viper Room, occupy the space. If the project moves forward, all existing retail spaces would be demolished.
The building plans consist of two separate high-rises — one with 115 hotel rooms and another with 41 residential units, 10 of which are being designated as affordable housing.
The proposal also includes an underground parking structure with room for 240 spaces, and both towers will have similar amenities such as gyms, pools, and indoor/outdoor entertaining spaces. In addition, the hotel will house several restaurants and lounges, including a new space for the Viper Room.
As local hotels begin to rebound from the COVID crisis, commissioners worry construction noise may negatively impact the nearby London Hotel. Other issues brought up include additional traffic jams and backups on San Vicente Boulevard, Larrabee Street, and Sunset Boulevard, as well as limited parking, especially for those in the workforce. 
Susan Milrod, a longtime resident of Larrabee Street, believes the residential side should be economically inclusive. She feels the developer is discriminating against the affordable housing units, and worries those tenants might be barred from using the same amenities as those who live in market-rate units.
"It is segregation and separation in a way. West Hollywood, we pride ourselves on being an inclusive city. It's not inclusive for somebody building this sort of monstrosity that will put a visible shadow over everything to the south of it," she said.
West Hollywood resident Roxanne, who recently moved back to the street she grew up on, cautioned about the potential consequences such as traffic congestion, global warming, street parking, and overdevelopment.
"Sunset Strip is not Las Vegas. It is a collection of historical musical clubs and various mom and pop [businesses]. It was disheartening to find out that even a pandemic couldn't stop this project," she said.
Despite concerns, other nearby residents support this endeavour and offered positive feedback. Robert Brigande is thrilled by the forward-thinking approach and design, as feels it continues the progressive ideals of West Hollywood.
"This is not so much for, maybe not an older generation, it is for the up and coming. This is something new, something exciting," he said.
Commissioner Lombardi recused himself due to a potential conflict of interest.