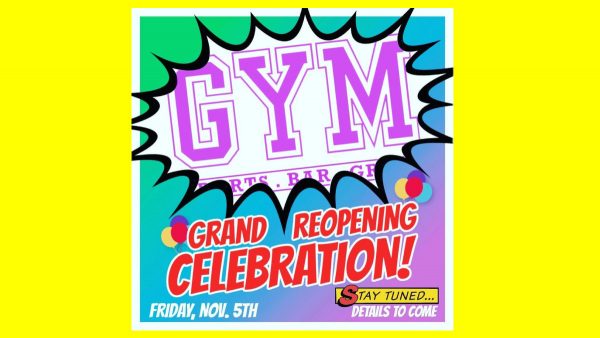 GYM Sportsbar marked its return to the Rainbow District on Friday, Nov. 5, with a grand re-opening celebration at its new location, 8919 Santa Monica Blvd.
The popular gay sports-themed bar had been shuttered since the beginning of the COVID pandemic until its re-opening in September.
Gym Bar opened in WeHo in 2009 at 8737 Santa Monica Blvd., at Hancock Avenue, in the space where the Normandie Room lesbian bar had been located. It quickly became a popular spot due to its laid back atmosphere and neighborhood bar feel.
It was a destination for many recreational sports players like the people who played dodgeball in West Hollywood Auditorium or the people who played tennis, flag football, softball, etc. with the Varsity Gay League.
In July 2020, after being shut down for four months due to the coronavirus pandemic lockdown, Gym Bar announced it wasclosing for good. Gym Bar officials said that property owner, Elias Shokrian of Calitex LLC in Beverly Hills, was unwilling to be flexible with the terms of the lease.
Many thought Gym Bar was gone for good, but the owners were quietly scouting for a new location, one with a kitchen so they could serve food, something they'd always wanted to include, according to co-owner Rick Schmutzler.
The previous location was too small to accommodate a kitchen, but this new location is almost double the size of the old one and already has a kitchen.
https://www.restaurantji.com/ca/west-hollywood/gym-sportsbar-and-grill-/