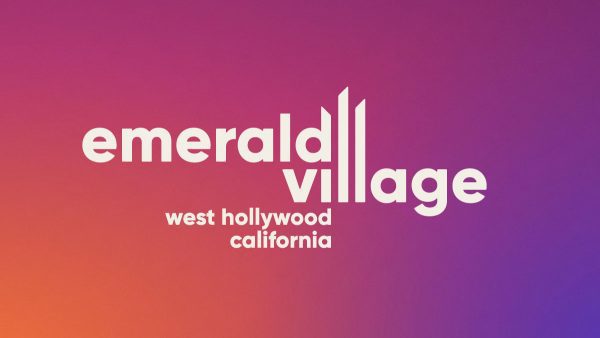 West Hollywood, the epicenter of the world's entertainment capital and a city famous for the iconic Sunset Strip, is adding a new moniker to its global reputation. With the launch of Emerald Village West Hollywood, the "Creative City" will also be known as the "Emerald Village," the world's new center of cannabis culture. The Emerald Village will draw tourists and locals alike to experience innovative cannabis attractions including culinary, wellness, nightlife, entertainment, and art.
The Emerald Village West Hollywood, comprised of a board of industry experts representing cannabis businesses exclusively in West Hollywood, is helping define a new level of style, civility, safety, and joy around cannabis use.
"From the first cannabis café in the United States to entertainment and art venues enhanced by cannabis, West Hollywood's Emerald Village is home the most unique and creative cannabis experiences in the world," said Scott Schmidt, Emerald Village Executive Director. "The Emerald Village is ready to welcome travelers who will appreciate our imaginative cannabis experiences alongside our iconic LGBT nightlife, entertainment, world-class hotels, award-winning restaurants and strong sense of community."
"Emerald Village businesses stand on their own unique merits, but our cooperative, City-wide focus on new cannabis experiences makes West Hollywood the first choice for global cannabis tourism," Emerald Village Board President Jake Stevens added. "West Hollywood historically normalized safe cannabis consumption so it is fitting that our City is ushering in a new era of personalized, elevated cannabis experiences across the entertainment and wellness spectrums."
"West Hollywood's imaginative entrepreneurs have led the way to reinvent how our residents and visitors experience cannabis," added Lauren Meister, Mayor of the City of West Hollywood. "I look forward to Emerald Village promoting and highlighting the best that West Hollywood has to offer and embracing our city's values of creativity, collaboration, and social equity."
Current member organizations of Emerald Village West Hollywood include Alternative Herbal Health Services (AHHS), The Artist Tree, CALMA, LA Patients and Caregivers Group (LAPCG), MedMen, and Zen Healing Collective. As a representative based organization, Emerald Village West Hollywood makes it a mission to build community by promoting understanding of cannabis regulations, consumer safety and advocacy for cannabis decriminalization and social justice, while spotlighting the allure Emerald Village businesses possess in reinventing the cannabis experience.
Since the AIDS crisis of the 1980's, West Hollywood has been at the forefront of the movement to legalize cannabis in the United States. Local pioneers like Don Duncan and Jason Beck (owners of the LAPCG and AHHS dispensaries) paved the way for medical dispensaries to open and are now guiding the Emerald Village as board members. Following the passage of Proposition 64 in 2016, West Hollywood created five new license types: for adult use, medical dispensaries, on-site consumption lounges with and without smoking, and delivery.
Today, West Hollywood boasts one of the highest rates of cannabis dispensaries per capita in the world, is home to one of the first cannabis retail stores to open in the state of California and is home to some of California's leading medicinal and wellness cannabis businesses. West Hollywood is also known for being the first city in the United States to open a cannabis café and consumption lounge.
Visitors will encounter a variety of refined cannabis experiences in the Emerald Village including social lounges that feature curated teas and plant forward menus, edible dining with live music and art, personalized wellness rituals (bodywork, acupuncture, nutrition therapy) and integrative physician services at cannabis wellness studios. Retail businesses offer in-store art exhibits by international and local artists alike, sustainably produced cannabis products, bespoke VIP services and a wide range of high-quality pleasure products designed to help you explore the enjoyment that can be found in West Hollywood's vibrant (and safe) adult scene.
The first campaign from the Emerald Village West Hollywood "Welcome to the Emerald Village" will launch in the near term with member organizations partnering with curated social media influencers to highlight what makes Emerald Village different than any other cannabis destination in the world.
Follow the campaign by following @emeraldvillageweho and #emeraldvillageweho on Instagram.
Locals and tourists alike can plan their cannabis adventures in West Hollywood through the Emerald Village website. The site features the latest updates on cannabis news, events, businesses, and attractions with an integrated map to discover what the world's cannabis capital has to offer. Cannabis businesses within the Emerald Village also make cannabis access safe, easy, and convenient with scheduled or same day delivery within 60 minutes or less and 2.5% less delivery tax than other dispensaries located in the city of Los Angeles.
To learn more about the Emerald Village West Hollywood and Emerald Village, visit emeraldvillageweho.com and follow @emeraldvillageweho on Instagram.