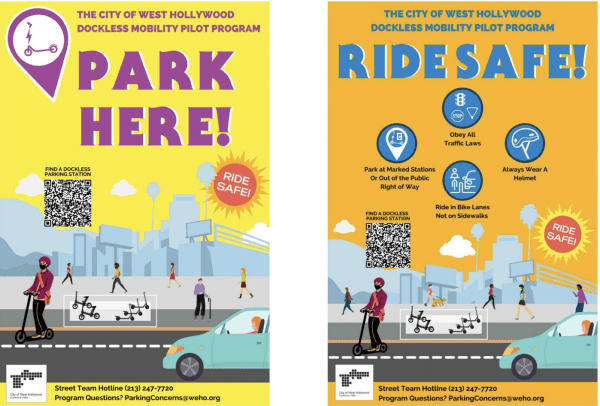 The City of West Hollywood has been mulling over strategies to better incorporate electric scooters and bikes onto streets and keep them off sidewalks.
Two months ago, City Council directed staff to address the illegal riding and confusion over the rules that have plagued the Dockless Mobility Program, which began in July.
Staff is preparing to update City Council with their progress on the directive at Monday night's meeting.
While riders can legally park their bikes or scooters anywhere between the walkway and the curb, City Council asked staff to add parking stations in the right-of-way in order to encourage riders to keep their micromobile devices off of sidewalks. WeHo now has 22 stations on city sidewalks and four on streets. Staff will now explore the idea of converting underperforming parking meter spaces into parking stations.
Technology exists that can detect when people are riding their bikes or scooters on sidewalks, and the city is looking to see whether options are available through current operators Bird and Lime, or through the addition of two new providers.
City staff has also produced a public information campaign and materials meant to educate riders on the new rules of the road.
Hang tags will now be placed on all devices that provide info on safety and where to file complaints; however, the turnover on mobility devices is very high, with 90 percent of the fleet swapped out in a month's time.
Informational signage has been installed throughout the city, and public outreach efforts are being made at events such as the Farmer's Market.