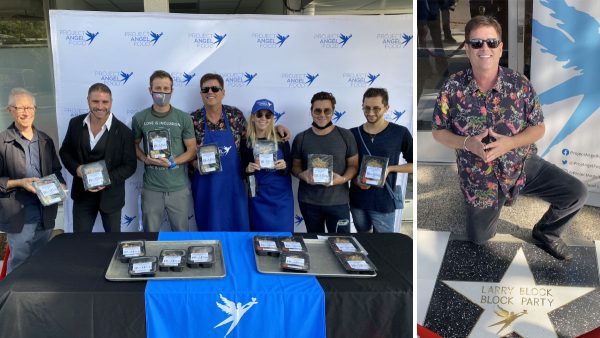 Project Angel Food received a $25,000 donation from WEHOville Publisher Larry Block, who was honored with a commemorative star on the Path of Angels at a ceremony today.
"Larry is a true hero of West Hollywood," said Executive Director Richard Ayoub, who presented Block with the star at their Los Angeles headquarters.
Block has been involved with Project Angel Food since its early days, when its primary mission was to feed people afflicted with HIV and AIDS.
"It was the '80s," Block recalled in his acceptance speech. "There's this new disease coming. It was just creeping into West Hollywood. Then all of the sudden my best friend got AIDS and died. And then so many of my best friends passed away.. Every Thanksgiving and Christmas, I would pick up a route and drive those meals and drop them off in honor of my friends and in honor of the people still fighting this battle."
Today, the nonprofit organization prepares and delivers 2,300 medically tailored meals every day to people living with all types of life-threatening illness, including cancer, diabetes, heart disease, etc. This year, they marked their 14,000,000th meal served. 
All of the meals made Monday were funded by Larry Block and his Santa Monica Blvd. clothing store, Block Party.