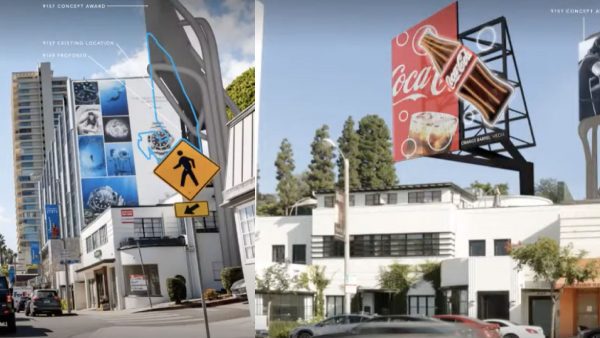 The City of West Hollywood's Planning Commission approved a new billboard on the Sunset Strip during last week's meeting. Situated at the iconic Paul R. Williams Building at 9165 Sunset Boulevard, a designated cultural resource center, the designers created a unique aesthetic thatblends with the existing project's forward-thinking features. Currently, the main occupant of this building is House on Sunset, a private coworking club.
Senior City Planner Bryan Eck and Aaron Green of the Afriat Consulting Group spoke about both the support the project has received due to its adherence to the essence of Williams' original design, and the desire to bring those designs into the modern era. Prior to this meeting, the project had received unanimous approval from the Historical Preservation Commission a certificate of appropriateness.
"Our reinterpretation of a classic neon spectacular is a one of a kind static that's highly customizable. It consists of a gantry structure and attached to that is a three-dimensional illuminated element," said Yumna Siddiqi of Orange Barrel Media.
The intent is to evoke a classic feel that emulates the original Berman Furs sign from the 1930s that's free of distractions for drivers. Senior Contract Planner Jennifer Davis reviewed various pictures showcasing how much of the sign would be visible at certain distances. At 1,250 feet away, the sign is completely hidden from commuters' views.
There were no public comments or opposition to the project, which passed with a 5-0 vote.  Chair Lynn Hoopingarner was absent, and Commissioner Rogerio Carvalheiro had to recuse himself.
CORRECTION: The headline of earlier version of this story misidentified the location of the billboard.