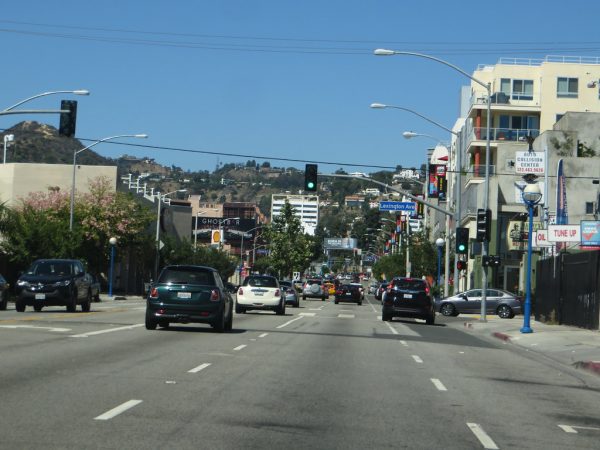 The City of West Hollywood encourages residents and stakeholders to attend Metro's virtual community meeting for the La Brea Bus Lane project to find out more about the project and share feedback with Metro.
Metro is planning peak hour bus lanes on 5.9 miles of La Brea Avenue from Sunset Boulevard to Coliseum Street. Though most of the project is in the City of Los Angeles, it includes three blocks of La Brea Avenue in the City of West Hollywood from Romaine Street to Fountain Avenue at the eastern edge of the City. Shared bus/bike lanes were suggested for this segment of La Brea Avenue in the City's adopted Pedestrian and Bicycle Mobility Plan from 2017.
The proposed bus lanes would operate on weekdays only between 7-10 a.m. and 3-7 p.m. replacing the additional travel lane in each direction that becomes available during peak hours when curbside parking is prohibited. Metro will be conducting additional outreach along the corridor throughout Fall 2021 and anticipates the project would likely be implemented by Spring 2022.
Metro's bus lanes project would improve speed and reliability for existing transit service on La Brea including West Hollywood's free Cityline Commuter shuttle to the Hollywood/Highland Metro B (Red) line station and Metro Line 212 which connects to stations for the Metro B (Red) and E (Expo) Lines, as well as the under-construction D (Purple) Line station. Line 212 saw over 12,500 daily boarding's prior to the COVID pandemic and 3 out of 4 bus riders on the corridor do not own cars and use the bus system at least five times per week.
All three alternative routes under consideration for the future Northern Extension of the Crenshaw/LAX light rail line also include a stop at Santa Monica Boulevard and La Brea Avenue so proposed bus lanes could also one day extend the reach of future rail service.
Online Community Meeting Details:
Zoom Link: bit.ly/3iweffd
Meeting ID: 879 6881 1301
Passcode: 5851
Dial in phone number: 213.338.8477
When you enter the meeting, your audio will be muted, and your video will be turned off.
If you wish to make a public comment, please use the 'raise hand' feature in the Zoom application. You will be prompted to unmute yourself at the appropriate time.
Please unmute yourself to ask a question or make a comment.
To ask a question or provide a comment via telephone, raise your hand by pressing *9 and staff will unmute you at the appropriate time.
All Metro meetings are accessible to persons with disabilities. Spanish translation will be provided. Other ADA accommodations and translations are available by calling 213.922.4869 at least 72 hours in advance.
Options for those Without Computer or Internet Access:
To ensure opportunities for public participation in this virtual community meeting, a mobile tech pop-up unit with laptop stations and a screen will be available to ensure opportunities for public participation in this virtual community meeting. This mobile pop-up unit is not an in-person meeting and Metro staff will not be onsite. COVID-19 health and safety protocols will be in effect and masks will be required to enter the unit.
LADOT Public Parking Lot #614
Tuesday, November 16, 2021, 5:30–8pm
728 S Cochran Av, Los Angeles, CA 90036
For more details on the La Brea Bus lane project, please visit Metro's project website at www.metro.net/labrea or review Metro's project fact sheet (Spanish version).
David Fenn, AICP
(he/him/his)
Associate Planner
City of West Hollywood | 8300 Santa Monica Boulevard | West Hollywood, CA 90069 | T 323.848.6336