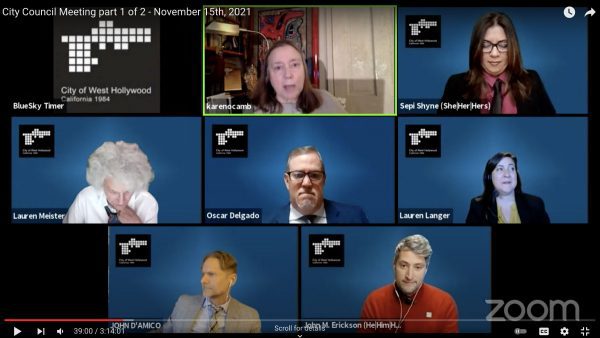 City Councilmember John Erickson issued a proclamation in honor of acclaimed WeHo journalist Karen Ocamb at Monday night's council meeting.
Ocamb, the founding editor of the Los Angeles Blade, was awarded Journalist of the Year for 2020 at the recent 63rd annual Los Angeles Press Club's Southern California Journalism Awards gala. She now works for Public Justice, a nonprofit progressive legal advocacy group.
"I call Karen a savior because of her dedication to so many people in our community when people forgot about them," Erickson said, "When people chose not to talk about their stories or when the history of our community is written, Karen Ocamb is right there at the front, making sure those that we have lost those that we must remember and the actions that we must always take to never go back are always at the forefront."
Ocamb is a veteran of CBS News and a mentee of Walter Cronkite, Dan Rather and Bob Schiefer. She volunteered on the ballot campaign to make West Hollywood a city. As the AIDS crisis ravaged her community and claimed the lives of many friends, Karen turned her focus toward LGBTQ liberation and equality.
"Karen Ocamb's passionate reporting of the struggles of the LGBTQ community and journalists covering LGBTQ issues during the pandemic earns her a Print Journalist of Year award," the LA Press Club Judges wrote.
The AIDS crisis was her entry into the movement for LGBTQ liberation and equality. She has worked in LGBTQ and independent media since then, culminating in her position as news editor and reporter for the Los Angeles Blade.
"I found out about the city hood movement in 1984," Ocamb said. "I was so proud of this city not just as a gay Camelot, but for knuckling down and taking care of our own, and not only taking care of our own but for others who flocked here, because it was a safe place and you couldn't say that elsewhere. I'm so proud to be a resident of West Hollywood."