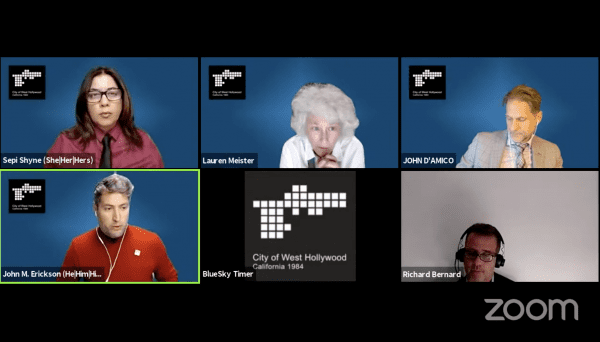 Richard Bernard with FM3 research presented the results of a city-sponsored survey to WeHo City Council on Monday. The survey was intended to draw a clearer picture of safety and security in WeHo, in the wake of a private "push-poll" survey that raised ire with city leaders earlier this year. 
The survey was conducted Oct. 26 through Nov. 3.
568 respondents of all ages were polled via telephone and the internet.
While 72 percent of respondents said they felt safe in their neighborhoods during the day, but that number dropped down to 49 percent at night.
Residents on the East Side were the most likely to report they felt "not very safe" at night.
Respondents were overwhelmingly pleased with the West Hollywood Fire Department; however they were far less satisfied with the Sheriff's Department. The percentage who rated the department good or excellent dropped from 77 percent in a 2016 survey to 49 percent in the new survey. The West Side was happiest with their work, while the East Side was least happy.
Nonetheless, a majority of people wanted the Sheriff's Department to receive more funds from the city.
Most people were unaware of who the city's Block by Block Ambassadors are or what they do, even when the surveyors explained they are the unarmed bike and foot patrol officers assigned to neighborhoods and parks. 
72 percent said homelessness was a very serious problem, by far the greatest concern, followed by package/mail theft, unsafe driving and pedestrian safety. 
West Hollywood people were not particularly concerned about law enforcement mistreatment of people. 
Respondents were enthusiastic about the Mental Evaluation Team (MET) as well as the proposed Behavioral Health Crisis Team, both meant to deter homeless people away from incarceration. When given the choice, they preferred these services over the Sheriff's Department. 
They were largely willing to cut funding from city events like film screenings, summer concerts, Halloween and Pride in order to pay for increased security measures.
Councilmembers noted that the survey presented no easy answers.
"You folks are the responsible ones for for the city," Bernard said. "I've left you in a place where you have to figure out something that's a hybrid of some sort that you think is the right way to go."