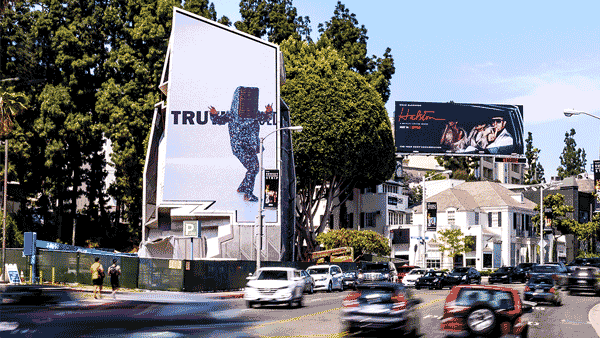 The Sunset Strip is in the midst of an evolutionary leap forward with the advent of digital billboards and other new visual technologies. At the vanguard of this revolution in modern marketing and commercial artistry are companies like Orange Barrel Media, whose innovative team is dreaming up the future of Sunset Blvd. and expanding the very definition of outdoor advertising. WEHOville spoke with Orange Barrel CEO Pete Scantland about what it's like being a trailblazer in the industry and what's ahead for the Strip.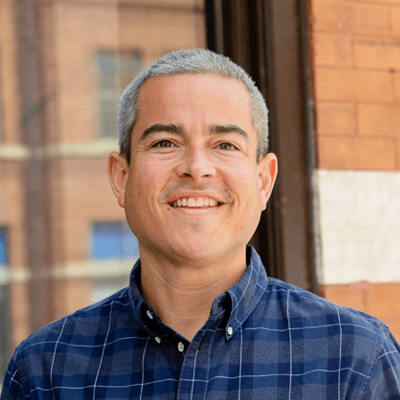 Introduce yourself — tell us about your background, where you grew up, the arc of your career in advertising.
I grew up in Columbus, Ohio and as a kid, was fascinated by cities, design and art. I studied fine art in college but, even before I'd graduated, I realized I was better suited to be an entrepreneur.
Tell me about Orange Barrel — its origins, its rise to prominence, your vision for its future. And what the name refers to.
Orange Barrel Media was founded in 2004 and united two ideas: first, that the generation emerging at that time would want to live in cities again, and second, that cities, when presented with a model that created benefit for the public and helped them to advance their goals—be they aesthetic or economic—would respond positively. Cities saw the traditional model of outdoor advertising as parasitic. It benefitted private interests, while contributing nothing in return. We established our niche by creating unique signage in the urban core that is more thoughtfully designed, includes content beyond advertising such as serving as a platform for public art and community organizations, and pioneered a new business model that allows the public to benefit economically through revenue sharing. 
From the beginning, we've focused on developing a business model that delivers benefit to the communities we operate in, and we do that by partnering with artists, institutions, and other stakeholders at the local level to create a platform they can use to advance their mission. For example, during COVID we partnered with local businesses in cities across the country to help promote and sustain them.  Through these public partnerships and through our revenue sharing business model, cities benefit economically and are redefining how they think about signs.  
Even prior to COVID, artists and museums were realizing that the traditional venue for showing art reached only a small audience and that public projects were critical to expanding their audiences in a very democratic way. We've been leaders in this area, working with hundreds of artists at this point, from community artists to the most significant international artists of our time. Artists see our platform and our company as a powerful tool to engage with a much larger audience. For example, last year, we partnered with Jenny Holzer, Jeffrey Gibson, Carrie Mae Weems and Tomashi Jackson to launch a nationwide Get Out The Vote campaign that reached 300 million people in the weeks just before election day. 
When did Orange Barrel start working on the Sunset Strip? 
Orange Barrel Media has been in Los Angeles since 2013 and began working on the Sunset Strip shortly after that. Our best-known project is the Sunset Spectacular, which we were awarded in 2018 and which launched earlier this year.  
How have you seen the Strip change over time? What's ahead?
Sunset Strip has always been a nexus of activity and creativity as well as an icon of visual culture. And throughout The Strip's history, billboards have been a window into contemporary culture and have showcased the music, film and art of the time. The technology of the culture has also evolved—from early sign painting, to printing, and now to digital. We create solutions that work for each particular project and its particular neighborhood. Take the Sunset Spectacular, which engages in the creative community that is West Hollywood and presents a sign as a sculptural and architectural object. It received an award from the American Institute of Architects, which we believe is a first for a billboard. 
Critics say that you're transforming the Sunset Strip into a Times Square, sacrificing its historic and unique qualities. Your response?
Billboards have for many decades played an important role in shaping the character of the Sunset Strip, from the Marlboro Man at the eastern gateway, to the rock-and-roll band ads that captured the 60's, 70's and 80's.  Now the world is turning towards digital signage, and, at the same time, artists of all genres are also turning to digital. Our aim, and the aim of the City we believe, is to preserve the Strip's historical qualities while also advancing an ambitious vision for the future.
How are ads evolving alongside billboards? How are they being integrated onto building facades clad with digital screens (like the Pendry)?
The vast, vast majority of our industry is focused on developing standardized billboards, which are the same size and shape across the entire country. Our approach is altogether different—we approach each project not with a standard for how it should look, but rather as an opportunity to develop something that is site specific not only with the architecture but also with the context and neighborhood surrounding it. 
What do advertisers like/dislike about digital boards?
Digital boards allow advertisers to have multiple messages, delivered at different times of day, and in some cases, in response to some external trigger. For example, we've run campaigns that change the message according to the weather. On the other hand, some advertisers prefer a static board because their singular image is up for an extended period of time. 
What's a ballpark cost to lease a digital billboard on Sunset? To have it designed?
The City's signage program is extremely competitive. Successful projects not only require compelling architectural design but also public benefits packages that create positive land-use and add to the character of the Strip. A compelling project requires significant investment on the part of property owners and media companies.
How has technology improved since the introduction of the first digital billboards on the Strip?
Recently, LED technology has improved in terms of picture quality, luminosity and product durability. One of the goals set out in the City's sign program is ensuring that all digital signage keeps up with evolving technology
What further technical advancements and new features are on the horizon?
I think greater interactivity is on the horizon. Our sister company, IKE Smart City, develops interactive kiosks that are used by citizens and visitors not only to discover local transit information, restaurants, events and cultural activities, but IKE also connects them with the city to unlock civic and social resources. 
What is the lifespan of the digital billboard?
Lifespans will vary based on the technology and, as you might imagine, LED lifespans are always improving. We constantly monitor our screens to make repairs as needed
What is the process of designing an ad for an animated or unusually shaped digital billboard?
The Spectacular is a great example of how this works. For each new campaign, our team designs the content to fit the uniquely shaped screens. This may require re-purposing of previously developed creative content or it sometimes involves designing new content bespoke to the Spectacular. 
What are the most novel and creative ways you've seen digital billboards being used?
One of the cornerstone pieces of the City's signage program is a commitment to providing arts programming on each of the new digital screens, amounting to just under 20% of the total annual time available on the screens. On the Spectacular, we've featured commissions from The Propeller Group, Nick Cave, Catherine Opie, Pipilotti Rist, and other leading international artists, as well as an ongoing program to feature artists from the community. 
What advantages if any do traditional billboards still hold over modern digital boards? Is there a future for static billboards?
I believe there is a future for static billboards. Because they feature just one image, when well done, they can become iconic landmarks in a city. We have even developed incredible three-dimensional campaigns that have a wow factor! 
"I live on the Sunset Strip and can't sleep because your billboards are so bright."
"Driving down Sunset isn't safe because your billboards distract drivers too much."
"Your digital billboards are bad for the environment, wasting energy and creating light pollution."
… What are you going to do about it?
We are committed to being a good neighbor in West Hollywood and to building a great relationship with the community.  As part of the multi-year approval process, we worked with community members to establish brightness, safety and other operational guidelines consistent with resident concerns and industry standards. OBM's agreement with the City to operate the Spectacular reflects limitations that were born out of that collaborative approach among the City, OBM and West Hollywood residents, including a broad range of operational requirements for specific times of day. 
We are always willing to address any complaints and are proud of our track record in being responsive to issues that arise. For example, although we were operating within the established brightness criteria when we launched the Spectacular earlier this year, we heard resident complaints about the brightness levels, and we quickly responded by reducing the brightness. We encourage residents to reach out directly regarding any of our projects, and we will engage with them to address and mitigate any and all issues.