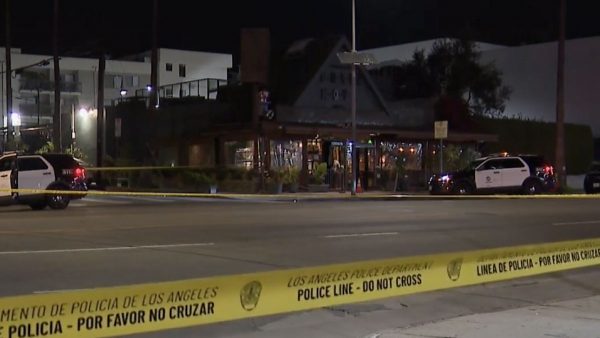 A man was shot and killed Tuesday in Hollywood.
Officers from the Los Angeles Police Department's Hollywood Station responded at 2:10 a.m. to 7181 Sunset Blvd. outside the Bossa Nova Restaurant on multiple calls of a shooting, where they found an unresponsive 23-year-old man, said LAPD Officer Drake Madison.
According to KTLA:
The victim was sitting in his vehicle when he saw several people approach his female companion outside and try to rob her, Los Angeles Police Department Officer Madison said. He got out of the car and was then shot and killed.The suspects then fled the scene, leaving the wounded victim in the street near his car.
Police said there may be up to eight suspects involved in the incident who are on the run.
The wounded man died at the scene, Madison said. His name was withheld, pending notification of his relatives.
According to witnesses, the suspects drove away from the scene in a black Nissan and are described only as Black males with handguns, Madison said. No arrests were reported.
Anyone with information on the crime was urged to call 877-LAPD-247.