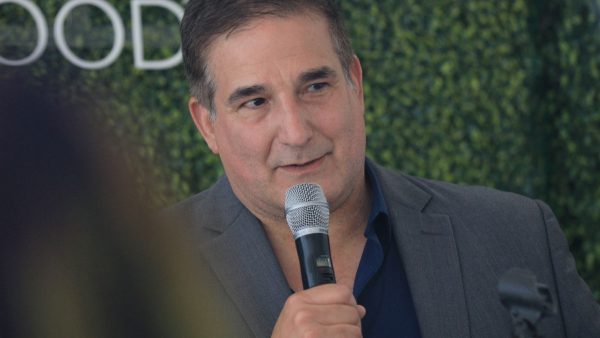 Richard Ayoub was celebrating his sixth anniversary with Project Angel Food last Tuesday when WEHOville called to chat about his promotion. Ayoub had just announced that he'd been named CEO of the organization, and was in the midst of delivering a meal to a needy elderly lady with his colleague John Gile. WEHOville spoke with Ayoub about this next stage in his career, what Project Angel Food needs right now and what it's like to be, as Gile describes him, "leading with his heart and working with his brain."
Congratulations! Tell us about the good news.
It's my six-year anniversary and I've been executive director this whole time. The board of directors met on Tuesday and after meeting, they decided that it was time to change the title to CEO. When I first started in 2015, I didn't think I deserved the title. I wanted to earn it. And I felt I had earned it. We've gone from delivering to 1,050 people a day to 2,400 people every day. We went from cooking and delivering 600,000 meals a year to 1.2 million meals this year. so I just John Gile, our new director of special projects, Bill McDermott, and our director of communication, they've all said 'Richard, you need to be CEO and then I said 'It doesn't matter.' Then I went to the board and they said, 'Of course it matters.' And then they changed it and when I sent out an email just late last night, I had put CEO in my title and I said, 'Oh my God, that looks really good.'
What do you think is the most valuable asset you've brought to the table since you started working with Project Angel Food?
I think from the minute I got there I thought that Project Angel Food deserved better. This organization has been around for 32 years and sometimes we know it's there and we forget about it. And so my goal was to remind people we're still here, we're doing great, still doing great work — in fact we're helping more people than ever — and we need your help still. So my thing was: increase awareness, visibility, and just keep us at the top of your mind. 
What's your vision for the organization?
The vision is to continue to feed more people and provide more meals. The need is so great out there and it was really very evident during the COVID crisis. So we want to feed more people and we want to grow and so we need to expand our building. We need to hire more people, buy more food. Our goal is to make sure that anyone who is alone and without food has access to Project Angel Food. John and I just delivered to our last person right now. Her name is Mildred and she's in her 80s and she's on a walker and she's very frail. And you could just tell she appreciated that we were there and we put the food in the freezer for her. We took some flowers to her, her birthday is next Tuesday and she has some memory issues. I saw that she had on her table about eight different medicine bottles and she's on multiple medications and we asked, 'Is there anyone who helps you?'
She goes, 'No.' 
'You have any family?'
'No, they've all died.'
This woman is literally alone and we told her, 'We are your family.' And I've got to say in the six years that I've been doing this, this was the most powerful encounter I had with client because I just walked out and I was almost in tears. We just wanted her to feel some love and I think today she felt it.
If someone is in need, how do they go about getting on your meal delivery list?
They have to have a qualifying illness, which is HIV/AIDS, heart disease, lung disease, diabetes, kidney failure — it has to be one of those because we provide meals that are medically tailored to the illness. So these are complex diagnoses and these people have mobility issues, so they can't shop or cook for themselves, and we do the shopping, the cooking and the delivery for them all. And for someone like Mildred, it's a lifesaver. And so they can reach out to us, call the office or go to https://www.angelfood.org/delivery/ourservices/become-a-client. So they can go on and self refer but we have 200 referral partners right now from APLA Health to the LGBT Center to the City of West Hollywood to Kaiser to hospice centers to dialysis centers. So we get referrals every single day.
What can the public or businesses do to help?
We need people to volunteer. We have a shortage of volunteers in the kitchen. This kitchen from day one has been driven by volunteers. The COVID crisis put a halt to that. But now we've allowed volunteers back in the kitchen and they haven't come back as quickly as we have hoped. And so I am seeing our chefs who are so determined and so loving and so wonderful. I'm seeing that they're a little ragged and tired. They still show up, they still do the work but they're doing a lot more work than they ever did before. And so we need the public to come back to us and help volunteer in that kitchen. We have four hour shifts. No food experience is necessary. You just need to be okay taking orders. And then of course we always welcome donations. Ten dollars will provide one meal for someone who is sick and homebound.
Any final thoughts?
I just want to say that this is the most rewarding work I've ever done in my life. I love my job every day and I can honestly say that when you come into work and just by showing up you're helping 2,400 lives get better, how can you not love your job?