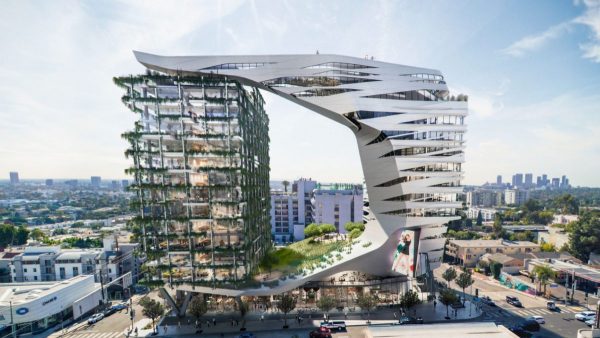 The results of a public survey on the 8850 Sunset Blvd./Viper Room project suggest a widespread distaste for the development and its design.
The survey was created and conducted by Elyse Eisenberg, WeHo Heights Neighborhood Association Chairperson and a Business License Commissioner. She has submitted the results and comments to the City of West Hollywood for inclusion as part of the public response to the DEIR (Draft Environmental Report). This project is expected to be presented to City Council in February.
A majority of respondents thought the techno-organic design of the proposed building "belonged in Dubai, not WeHo." Many were outright horrified by the look of it; others said it was far too large and/or tall for the lot, or that it would look dated too soon.
"I like the two towers individually but NOT on this site and NOT together," wrote one respondent. "its overwhelming. Way too tall and attention grabbing. And trying to be linked together -its too much of a stretch – literally. They don't belong together"
"I think it's an interesting design but has no place in West Hollywood," another wrote. "Please don't build this"
Residents were also concerned about the project's effect on traffic and parking.
Most were not convinced WeHo needed another hotel, nor did they think 10 new affordable housing units were worth the disruption the project would bring to the neighborhood.
"The trade-off is not worth it," one resident wrote. "Especially in this case since the plan is to segregate the affordable housing On the most undesirable floor. We need to focus on affordable housing that isn't being built in a Faustian bargain."
The results of the survey can be found here: http://wehoheights.com/