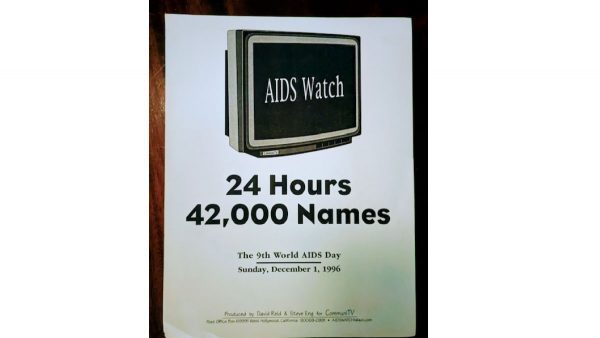 By David Reid
When World AIDS Day lands in the middle of the week and the middle[?] of a pandemic it can easily be forgotten or avoided. 
There is a way to take a moment, on your phone or computer to fathom the loss from HIV.  Go to www.AIDSWatch.org and hang out a few minutes. If you give it thirty minutes you will see a name you know. You know more people than have died from AIDS than you know. The list of the famous is infamous. Liberace's family fought hard to keep AIDS out of his obituary. Tommy Lasorda Jr. passed early. Freddy Mercury is the most submitted name to the project. You cannot add a name for this year's roster, it's off and running. You can after the first of the new year. There is never a fee nor will there ever be a fee to add a name to remember. 
AIDSWatch began in 1996. Century Cable, headed by to-be Los Angeles City Councilman Bill Rosendahl, cleared a channel so we would reach over 1,000,000 households. We also uplinked the program and offered it free to cable system for free. One took the feed. A small system on Long Island. Considering the idea of just names on the screen didn't birth until October 31st it was semi-miraculous that there was the first year. We scrambled for names. We took names from The Quilt -The Names project directory. In order to get the names into a computer file several writers assistants at Paramount stepped up and typed and typed and typed for days.  Try typing 100 names and you'll grasp the task.  The first year the name flew by, we wanted 42,000 names for some reason, mathematical no doubt. In the following years we slowed the roll.
We held each name for 99 frames of video. That's about 3.5 seconds or the time it takes to breath in or out.  I meditate to the show each year.  In fact I'll be in a dark room much of the day watching the names scroll by.  They are random. Like life. And death.  We do 'seed' the roster. There lots of names you know but might not know they were taken by AIDS. Isaac Asimov. Anthony Perkins, Ryan White, Halston and the icebreaker that got Ronald Reagan to say the word "AIDS" when Rock Hudson made public his diagnosis. I do take 45 of the first thirty minutes for names from my rolodex. The first name each year is Christopher Lee Blauman. 
Chris was a dear friend when I first moved to town and needed one. Chris was Bill Rosendahl's partner of 14 years. David Cartwright, my first roommate in town in Silverlake [The Swish Alps] died in 1992. In fact they both died on January 14th. David is the 7th name because that was his softball jersey number. Mark Coleman, one of the founders of the Gay Men's Football League wore number 17 and is the 17th name in the roster.  It was my privilege on October 11, 1987 to be part of the security for The Quilt— the most magnificent piece of human art work ever created — on the National Mall in Washington D.C.
I remember being numb to the event. Overwhelming. And while standing guard to keep the public off until all the panels had been unfurled the names droned on and on and on "David Reed" I heard and woke me from the daze. I quickly looked to see when in the vast plain his Quilt was. I never knew him but hearing your name in this situation can be unnerving. He is #9 in the roll. Vernon C. Mitchell a l-o-n-g-t-i-m-e activist in out community who happened to are my December 18th birthday is name 18 each year. Connie Norman, Mark Kostopoulos. and too many more just crush me each year this rolls out. 
If you've read this far thanks for letting me ramble. And thank you for taking a few minutes and think about the cost to our humanity from AIDS.  Covid looms large. It has killed as many people in two years in the United States as HIV has in all these years. 
www.AIDSWatch.org