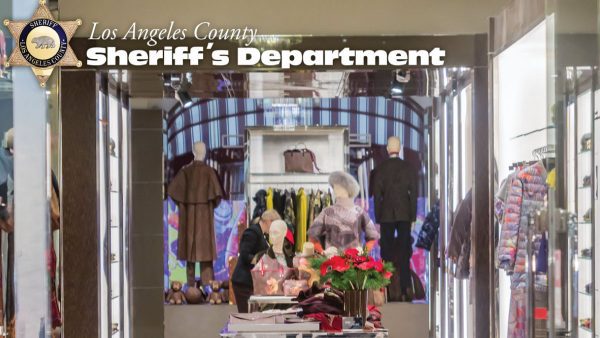 Incidents are occurring at high end retail businesses, primarily in the West side of Los Angeles and San Fernando Valley. Suspects are primarily concealing themselves with hoods and masks, and most are wearing gloves. Also, vehicles primarily used are either with paper plates or no plates. Many of our suspects are from the South Los Angeles area and some are linked to criminal street gangs.
In one incident, bear spray was used against security. We did recover the bear spray and it is being tested for any potential DNA recovery.
Arrests and Investigative Efforts:
There have been 9 arrests over the past few days through traffic stops, probation rollback searches, and warrant services resulting from investigative leads. Large quantities of recovered merchandise have been seized during follow-up investigations.
We have been leveraging our partnerships with the FBI Task Force to locate potential suspects. And aggressive filing strategy has been made to present for filing consideration.
Enforcement and Preventive Strategies:
Agencies are working closely with neighboring jurisdictions (LA County Sheriffs, Santa Monica, and Beverly Hills) to pre-identify potential suspect crews and vehicles.
Monitoring of social media for suspects posting planned crimes or bragging about recent seizures.
Police vehicles parked strategically at businesses.
High visibility patrols require police vehicles to have emergency lights on while driving.
California Highway Patrol is assisting with extra patrols.
Uniform foot beats at shopping locations.
Overtime funding approved to augment uniform presence.
Aviation: One dedicated helicopter to primary areas of occurrence has proven effective over the past few days as a deterrent.
Mounted Unit Deployment: Officers on horseback are assigned to high risk retail locations as a visible deterrent.
Business Strategies:
It is encouraged to increased lighting and expanding security cameras.
Retail and business owners should work closely with law enforcement by providing updates via in-person or virtual meetings.
If you see something, say something, report crime by calling 911 if it is an emergency, or contact your local Sheriff's Station or police department, or remain anonymous by calling Los Angeles-Crime Stoppers at 800-222-TIPS or by visiting lacrimestoppers.org.