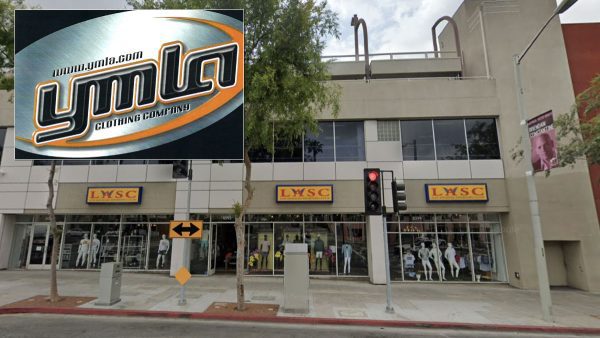 The brand will resurface at the new John Reed Fitness complex at 8594 Santa Monica Blvd.
Founded in 1991 by Larry Block and Shirley Fong, YMLA Inc. grew from a local startup to become one of largest young men's brands in the country. YMLA was twice selected to the INC 500 Fastest Growing Companies in America and recognized by the Los Angeles Business Journal as one of the Top 10 Fastest Growing Companies.
The brand YMLA was famous in the 1990s for pionnering trends, beginning with its roots inside the International Male Catalog, which put Block into business.
"The Rob Grey hot short was our first order," Block said. "It hit big, and 10,000 units later, we had the biggest selling item in International Male."
The 'slinky' became a national trend and sold over 1 million units. Club YMLA was sold in most major department stores including Macy's, JC Penney, Belk Stores, and became a staple at leading speciality retailers including The Buckle, Oaktree, Merry-Go-Round, Hot Topic and Gadzooks.
The YMLA California Gym Gear label was sold in all the major sporting goods chains including Sports Authority, Big 5 Sporting Goods, and Sport Chalet.
"Our 'Dangerous Willie' brand was sold at Sears and Kohl's across the nation." Block said. "We kind of knocked ourself off and everybody wanted to do business with us. It was an incredible time."
YMLA previously had a flagship store at the Beverly Center before the company was sold in 2002 to Castle Hill Apparel, a large women's wear manufacturer based in New York City.
Block acquired the rights to the YMLA brand in 2010, when the operations were sold again to the Original Gear Apparel Group and the deal included reverting the rights to the brand back to Block.
The new YMLA WeHo, located at 8594 stands for Young Mens and Ladies Athletic Wear, and will feature premium activewear for both men and women. The concept will attempt to capture core premium fitness customers in just 857 square feet.
"This new YMLA store is a concept store," Block said. "Instead of its acronym being 'Young Men of Los Angeles,' this time around we are Young Mens and Ladies Athletic".
"Along time ago YMLA was doing a reverse merger into a public shell to acquire the 'Aca Joe' company and the deal fell through. A few years later we attempted to take 'Undergear' into retail but a change in management at International Male put that idea on the back burner. The goal with YMLA is to be a core gym shop concept that that will grow with and alongside the John Reed Gyms. YMLA used to be a major supplier to Gold's Gym which is now owned by John Reed. We understand their customer. And the market is shifting. We can be the next Lulu Lemon. "
"While the lease was being negotiated I could not wait to tell Shirley. But she passed away just a few weeks ago. We will hang her photo on the wall and honor her. Her kids are going to cut the grand opening ribbon. This I promise." Shirley is watching over us and will be in my heart forever.
Note: Larry Block is also the owner of the BlockParty store and the Managing Director of WEHOville.