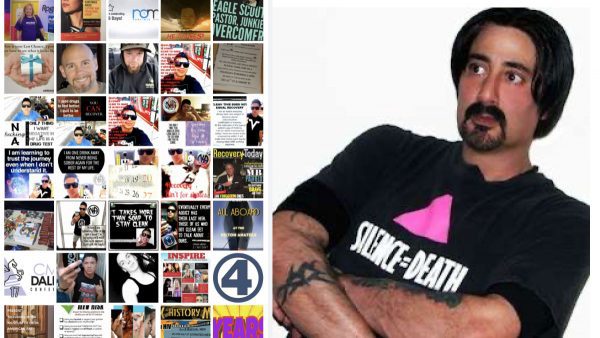 Mr. Jimmy Palmieri, welcome to WEHOville. Please introduce yourself, where were you born and when did you migrate to West Hollywood?
Hi Larry. My name is Jimmy Palmieri, and currently I am the Chair of the Human Services Commission for the city of West Hollywood.
I am from Bloomfield, NJ, which was a very Italian town when I was growing up. It has long since changed, and is more inclusive of many nationalities ,ethnicities and cultural backgrounds. Most of my career, though, was spent in New York City. I taught culinary arts, was a personal chef for Steven Spielberg and also Steve Ross, the legendary CEO of Time Warner.
One day in 1994, I went outside after I was done teaching for the day. It was November, and winter was coming quickly. It was so cold, and although I had on many layers of clothing, I was shivering. I walked a few yards down 7th Ave and turned around. I went back into the school and resigned. I could not take the cold any longer.
I was in a 14-year relationship that was turning toxic, and I decided I'd head to California. I'd never been here.
I had no friends, no family, no job and no apartment. I did have about $700.00 and a few credit cards. I got a studio in West Hollywood for like $750.00 and loved Weho. I decided I'd stay 6 months, and never went back home.
You founded the Tweakers Project — what is that?
The Tweakers Project was born out of necessity. I was hosting a cable show called Time Out, interviewing many non profit EDs, and addiction kept coming into our conversations. I decided I'd make a documentary after procuring the rights to the book TWEAKERS, by the late Frank Sanello. We premiered the film at The Silver Screen theater to standing room only crowd.
From that I needed to segue into actually helping people into recovery. Hence The Tweakers Project was born.
It is simply a social network of folks helping to stay sober and getting folks into rehab and recovery services. No one has ever been paid, and we have placed about 350 people into services. Facebook helped a lot, by letting me form a group, that put everyone in touch. It's like a 24/7 support group or meeting, all available on Facebook. We have about 6,000 members and I have about 100,000 members total in all of my recovery groups on facebook.
The Human Services Commission is often knows as the 'heart' of West Hollywood. How long have you served on Human Services and tell us what the Commission does.
I think I have been on The Commission for more than 10 or 11 years. I lose track because I also did 9 or 10 years on The Lesbian and Gay Advisory Board.
The Human Services Commission, in my view is the heart of the city. We receive a lot of information, on current trends on services that are needed. We get reports on how each provider is doing, according to the contracts they have made with the city for funding. We evaluate their scopes of services, and when they request grants from us, we discuss at length, and make decisions on what amount they will be getting based on need and performance or projected performance.
It is a long process and very work-intensive. That being said, my happiest years of service have been on Human Services Commission because I feel like I am making a difference in how the dollars are being spent.
I've always admired you Jimmy, because you serve in sickness and in health. If you care to share some of your health issues and how that relates to how you also are always helping others.
I've been blessed with many things in this world. I had a great and exciting career, friends and 4 amazing husbands (yes 4, don't judge ). Health has always been a challenge. I have a a genetic illness that affects my immune system. It required monthly transfusions for nearly 40 years. I now am on a biologic, which is helping a lot, and allows me to take a 10-second needle twice a month rather than an 8-hour transfusion every 3 weeks. I have never let my illness prevent me from doing anything. I once saw some obscure movie with Geena Davis called Angie. In it she says, "The less broken must always help the more broken." I have always lived my life feeling less broken than many.
Tell us about #Boom and #Sizzle. I remember the first years we all started that together and its' still going strong. What is up for this year's New Years #Boom?
Yes, Larry you were a huge help in the early years of #BOOM! and #SIZZLE. They started out as sober alternatives to parties that normally would include substance use. #BOOM is the sober New Years Eve party, sponsored by the city, The Tweakers Project, APLA and IPS among others. It was our hope to gather 100 people the first year in the auditorium for a New Years Eve celebration that was free of substance use. We wound up with 500! It's been going for 7 or 8 years and has had up to 1,000 in attendance.
THERE WAS A NEED. With COVID in the picture, we had to skip it last year. This year we will do it as an online production! It is not a zoom meeting. It is truly a production! The Weho Recovery center will be the home base studio and the sober houses and recovery facilities will be satellite sets allowing everyone there to be involved! We will be giving out free boxes of surprises (to the first 300 who sign up) which we are calling BOOMBOXES, a party in a box.
There will be cool gifts and surprises with an '80s theme, so that people might consider having smaller gatherings at their homes and celebrate with us, via the internet, rather than have a crowd of 1,000 possiby infecting each other in this time of pandemic. It will be hosted by hysterical drag impresario Salina Es Titties and the DJ will be the rockin' DJ Quinn. This will be the first type of production for a major event of its kind done in this way.
SIZZLE is the sober carnival at pride, which is set up as professionally as the LA Fair. Prizes, games, music, food etc. AND EVERYTHING, AS WITH #BOOM! IS FREE. #SIZZLE has become the No. 1 destination at Pride, which says a lot as it is an alcohol and drug free zone!
Readers can contact me at lachefjim@roadrunner.com for volunteer opportunities for New Years Eve! We love to bring all of our fellows together to help, enjoy and stay sober!
Thanks Jimmy and Merry Christmas,
Happy Holidays Larry, to you and your readers!