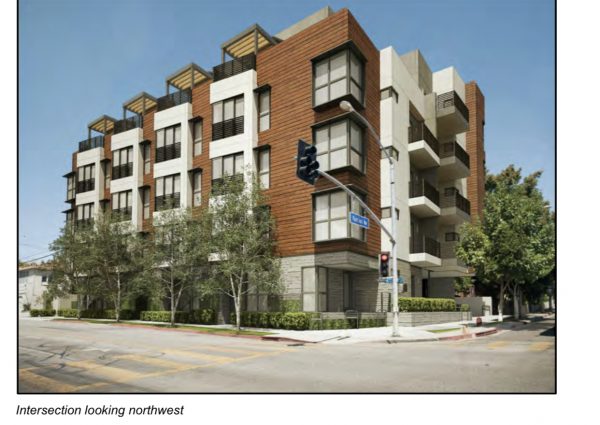 City Council will make the final decision on whether a controversial co-living apartment complex will be built on the northwest corner of Fairfax and Fountain.
Developers are hoping Council will allow them to proceed with plans for the five-story building, for a total of 73 bedrooms in 18 units. Each unit is a cluster of four or five bedrooms which each have a private bathroom, but they share a kitchen, living room, dining room, and laundry space. The building will also have three affordable one-bedroom units.
The project was designed to take advantage of the State of California's density bonus law, which allows for a 50 percent bonus of up to six units in exchange for providing the affordable housing units.
After much deliberation, the Planning Commission voted to approve modified plans on Sept. 2. The appeal to City Council by Jerry Ptashkin and Nick Hoogendyk was filed eight days later.
Ptashkin and Hoogendyk are contending the project based on nine objections, many of which boil down to vague terminology and debatable language.
The original public notice described the project as a 17-unit apartment building with three units of affordable housing. The appellants claim the city misinformed residents by using the term "dwelling unit" to describe the 18 clusters, rather than the 73 bedroom/bathrooms which will be leased individually. The city has pointed to its definition of "dwelling unit" in the municipal code:
● Dwelling Unit: A room or group of internally connected rooms that have sleeping, cooking, eating, and sanitation facilities, but not more than one kitchen, which constitute an independent housekeeping unit, occupied by or intended for one household. 
The city argues that these clusters do not fall under rules governing two other categories:
● Sleeping Unit. A single unit that provides rooms or spaces for one or more persons, includes permanent provisions for sleeping and can include provisions for living, eating and either sanitation or kitchen facilities, but not both. Such rooms and spaces that are also part of a dwelling unit are not sleeping units.
● Single-room Occupancy Housing: A residential facility providing individual secure room(s) for one or two person households, which may have individual or shared kitchen and/or bathroom facilities. SRO units are rented on a monthly basis or longer.
The appeal also argues that the project was improperly granted an exemption to CEQA rules and provided waivers based on incorrect calculations.
City Council will review the appeal and make their decision at their meeting Monday evening.
df