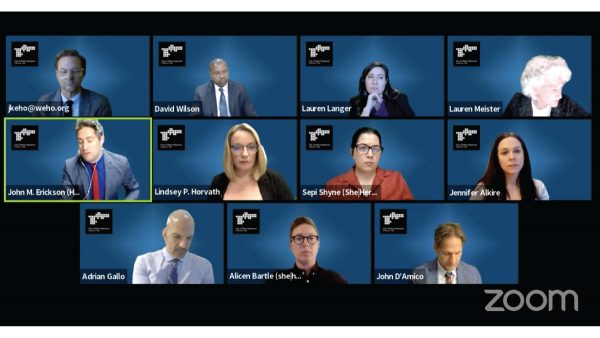 A hotly contested co-living apartment building was on the verge of being approved by City Council as they met Monday night, but a last-minute substitute motion by Councilmember John Erickson sent the project back to the drawing board. 
Developers of the northwest corner of Fountain and Fairfax had already (narrowly) secured the greenlight from WeHo's Planning Commission to build a five-story complex with 18 "dwelling units" — a term which disguised the fact that there were actually 73 leasable rooms in the plans, according to opponents of the project, who appealed the Planning Commission's decision to City Council.
Each so-called "dwelling unit" is a cluster of four or five bedrooms. Every bedroom has a private bathroom, but each cluster of bedrooms shares a single kitchen, living room, dining room and laundry space. Each bedroom is leased separately to a single individual. The building will also have three affordable one-bedroom units.
The project was designed to take advantage of the State of California's density bonus law, which allows for a 50 percent bonus of up to six units in exchange for providing the affordable housing units.
Councilmembers sympathized with a myriad of complaints in the appeal — 30 parking spots for more than 70 potential residents, traffic issues and particularly the Planning Department's handling of the affordable units, and the limited number of residents who would benefit from them. 
"We don't have people on our list who have families who may need a second bedroom or a third bedroom, if Grandma is there, too?" Mayor Lauren Meister.  "Can you explain to me why three one-bedroom units were decided upon versus two-, three- and four bedrooms to be comparable to the four- and five-bedroom units?"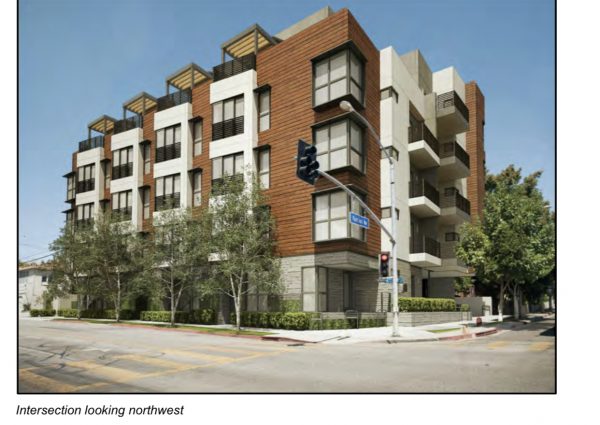 "I'm very concerned about limiting the number of people per bedroom," Councilmember John D'Amico said. "If someone gets pregnant or adopts a child, they're basically evicting themselves. If someone falls in love, they're basically evicting themselves."
As unhappy as they were with the project, they apparently saw no errors in the Planning Commission's decision and therefore no reason to approve the appeal.
"I have to say this is a particular low point," said D'Amico, motioning to deny the appeal. "We're not getting 11 bedrooms for people who need housing. The applicant came forward offering us more bedrooms. Instead of turning around and saying, 'Sure, give us five bedroom units,' we fumbled. I'm just very disappointed in our department."
As they were prepared to vote, Councilmember Erickson made a last-minute substitute motion based on the fact that all the affordable units were clustered together on the ground floor.
"I am really struggling with the clustering of the affordable units on the ground floor," Erickson said. "I believe inclusionary housing units are supposed to be dispersed throughout the project" and should be similar in size to the clustered, non-affordable units.
His motion directed the Planning Department to reconfigure the plans to de-cluster the units and possibly increase the number of affordable housing units and/or bedrooms.
The motion was approved 4-1 by the Council, with Councilmember Lindsey Horvath voting no.
The project will return to City Council at a future date.