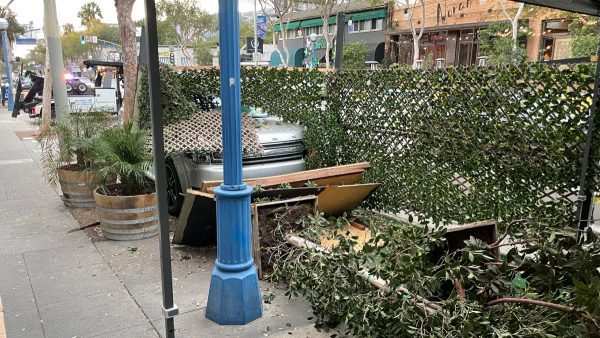 An elderly man driving a Ford Flex crashed into one of West Hollywood's OutZones today, leveling a temporary outdoor wall and destroying landscaping in a converted curbside space meant for pedestrians and diners.
The collision occurred at 8278 1/2 Santa Monica Blvd. at about 4 p.m. Monday. The vehicle didn't come to a stop until it reached the Pura Vita restaurant, which was closed the time. The crash comes exactly one week after City Council decided to make the temporary OutZone program a permanent fixture of WeHo streets.
The driver, who did not appear to be injured, was reported to be a diabetic whose blood sugar was very high. Paramedics who arrived at the scene said the man thought he was in Culver City and that the year was 2020.
Anthony Vulin's office stands right in front of the scene of the accident.
Vulin, who sits on WeHo's Business License Commission, says the city recently shortened one of the yellow barricades surrounding the OutZone for unknown reasons, leaving the seating area exposed to oncoming traffic. He also said that the barricade was not filled with water or sand.
While Vulin supports the OutZone program, he is concerned about improper installation of the barricades.
"They shouldn't leave a gap where a car could fit in. I've seen many with this issue," he said. "And they need to make sure they are filled with water and sand, as they should be."
"I think OutZones are an important part of our city," Vulin said. "We just need to make sure this doesn't happen again by having each one looked at for any adjustments that need to be made."
Photos courtesy of Athony Vulin