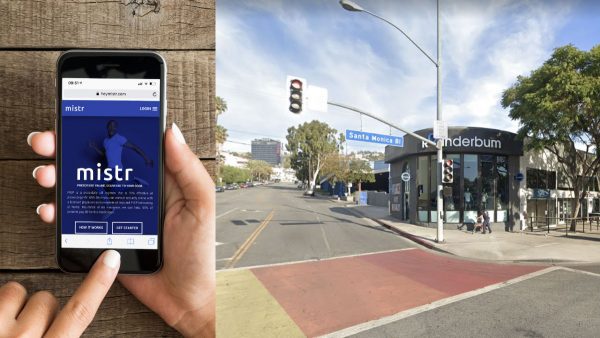 Welcome to the gayborhood, MISTR.
MISTR, an app that offers free PrEP (pre-exposure prophylaxis) and related services online, is reportedly setting up shop in West Hollywood. The gay owned and operated company is taking up residence at 802 N. San Vicente Blvd., on the northeast corner of Santa Monica Blvd., where Rounderbum once was.
The location, on the Rainbow Crosswalks intersection in the center of Boys Town, is one of WeHo's most iconic and visible commercial properties. It's an audacious choice for MISTR, one which signals a major investment in the city and an interest in deepening its ties to the LGBTQI+ community.
MISTR operates in 26 states and provides free PReP via partnerships with various non-profit organizations. To enroll, new patients must take a short questionnaire and complete the required lab work, which tests for HIV, Hepatitis B and kidney function and can be taken at home. After a doctor reviews the patients' info and results, medications are delivered to the patient in as few as five business days.
Sold under the brand names Truvada and Descovy, PrEP is a once-daily pill for people who are HIV-negative which helps prevent them from contracting the virus should they be exposed to it. Studies have shown that PrEP is 99 percent effective when taken as prescribed.
According to MISTR's website, a mere 6,700 people in L.A. County are currently on PrEP, roughly 10 percent of the area's gay population.
Earlier this month, WeHo Congressman Adam Schiff introduced the PrEP Access and Coverage Act of 2021, which if passed will require all private and public insurance plans to cover PrEP and related services with no out-of-pocket costs for patients.