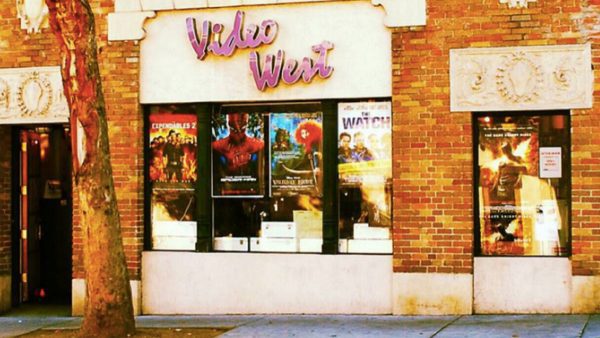 It's that time of the year when I pull out my collection of vintage Christmas movies and try to remember how to use the DVD player that has been collecting dust since the last awards screener season. There are a select few holiday classics like "White Christmas," "Christmas Story" and "Christmas Vacation" that I bought my own copies of rather than paying to rent them again every year. 
I do appreciate the convenience of being able to rent a movie instantly on my smart TV for a few bucks but can recall a day when things weren't so easy. Maybe I never had to walk uphill through a foot of snow to watch a movie but a few decades ago, I did have to get into my convertible and drive all the way down Santa Monica to Video West on Larrabee. Once upon a time, every mall in the country had a Blockbuster but only West Hollywood had Video West.
Back at the dawn of the '80s, this tiny shop was one of the first in the area to rent the then-brand-new videotapes to customers who had invested in the latest innovation in home entertainment: the VHS player. In those early days, the players weren't cheap, starting at about $300. The tapes were pretty pricey, too, making the opening of a video store an expensive proposition. Way back then, video stores encouraged potential customers to purchase memberships which included lower rates on rentals. In the mid-80s, a weekend of movie viewing at home could set you back $5 per film, plus charges for late returns or failing to remind.
What made Video West unique was its eclectic selection as well as its local clientele. It was not unusual to find famous faces checking out the new arrivals shortly before closing time. Those in the know knew that this was the place to find a rare cult classic as well as the latest box office hits. This was the place I discovered made-for-video gems like "Girl Groups" and "Mondo Elvis." The staff was friendly and knowledgeable, adept at remembering the tastes of the store's regulars.
The shop was also the go-to place to find gay-related vids including gay erotica. It was this niche that made Video West different from chains like Blockbuster which offered multiple copies of the latest releases but avoided controversial content. The shop continued to serve the gay audience as long as it remained in business.
Alas, the video rental store, like the Photomat, had built-in obsolescence. As technology moved ahead at an impressive speed, DVDs replaced VHS tapes and Netflix replaced the neighborhood video store. Having your entertainment mailed to your home was so much more convenient than having to drive to the mall, park, and fight other customers for the newest release that Blockbuster locations closed by the hundreds. When Netflix added streaming to DVD rentals, competitors like Hulu and Amazon Prime Video quickly joined them and "cord-cutting" became the hip way to get your movie fix.
Video West lasted longer than most, appealing to cinephiles who prefer the physical DVD experience but finally closed its doors in 2015, two years after the last company-owned Blockbuster bit the dust. So this holiday season, as you relax in front of your 80-inch smart TV, perusing the thousands of streaming choices at your fingertips (or voice control), stop to raise a toast to Video West for being WeHo's own go-to place for innovative movie choices.