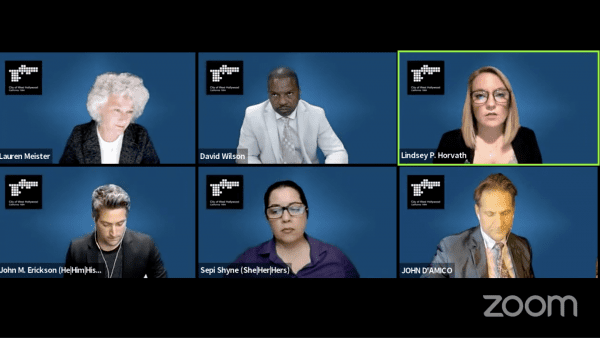 With crime at the top of West Hollywood residents' minds, City Council voted on Monday night for increased presence and patrolling by the Block by Block ambassadors — but not by the Sheriff's Department.
Agenda item 5D originally called for the reinstatement of two positions on the Sheriff's Entertainment Policing Team — a sergeant and a deputy — that were slashed as part of COVID-related budget cuts last year.
Councilmembers Lindsey Horvath, John Erickson, Sepi Shyne and John D'Amico all expressed reservations about dedicating additional funds to the Sheriff's Department. They pointed to the highly publicized allegations of overbilling by the department that surfaced last summer, and a requested audit of the billing records that has not yet been produced.
"We still don't know where our dollars are being spent for taxpayers," Erickson said. "How do you reckon giving the Sheriff's Department, which refuses to comply with the inspector general, $600,000 extra which we don't know where we'll be going or if they're being accounted for appropriately?"
"I think we all have some issues with the sheriff," Mayor Lauren Meister said, "but I don't think that we should be taking that out on our residents, our community, our business community or our local sheriff's station."
"Unfortunately for me, our relationship with the LASD is not working," Shyne said. "Throwing money at it when that's not the solution is not going to help."
D'Amico noted the recent verifiable criminal incidents happening in Beverly Hills and Los Angeles, but suggested overblown fears were driving the perception of rising crime in West Hollywood.
"In our city there seems to only be an increase in fear," he said. "There hasn't actually been an increase in crime. I know — I speak to business owners and they point to endless amounts of things that are seemingly worse, seemingly more terrifying."
"There continues to be a narrative that says that areas around us are unsafe and thus we must feel unsafe," said Horvath. "There's a lot of misinformation and a lot of hearsay that is contributing to people's fear, and that fear is real, but it's based on misinformation."
They also cited the council's recent special meeting on safety, during which they directed city staff to make a number of recommendations on how to improve security issues within the city. Staff is scheduled to present their recommendations, which include budget proposals, at the beginning of next year.
After discussion, Horvath made a substitute motion that allowed the council to vote on the Block by Block portion of the item, but postponed a decision on the Sheriff's Department portion until city staff's security presentation.
Mayor Lauren Meister, the author of the proposal in its original form, disagreed with the move.
"I felt it was important to raise this issue now because people are not feeling safe," Meister said. "I think it's fair for our constituents to know how we voted on this item."
The council voted unanimously to pass Horvath's motion. 
The city will spend $2,000 on overtime hours for the Block by Block ambassadors over the holidays. Council will decide whether or not to spend $600,000 for the additional Sheriff's Department positions at their next meeting in January.