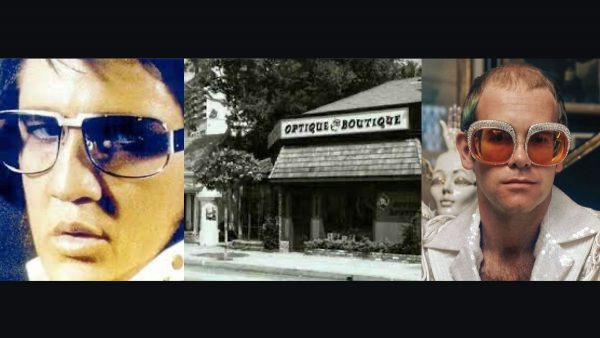 Recently I saw in a press release that '70s rockstar Elton John was lending his name to a line of eyewear for Walmart and Sam's Club. This seems like a natural match since back in his heyday, the piano-pounding Brit was known as much for his unique taste in eyeglasses as for his music.
Not surprisingly, Elton's fancy specs did not come from just any optician but from West Hollywood's own Optique Boutique. For celebrities who wanted eyewear that reflected their carefully crafted images or civilians who had a yen for the unusual, this Sunset Plaza shop was the place to go. Owner Dennis Roberts drove a Ferrari and wore a TLC necklace gifted to him by the King of Rock 'n' Roll so his sense of style was impeccable.
My first trip to the Optique Boutique was for the most pedestrian reason possible; I had lost a screw from the pale blue shaded oversize eyeglasses I had brought with me when I moved to L.A. in 1971. A friend directed me to the nearest optician and it was love at first sight. When you're as nearsighted as I used to be, finding the right glasses to adorn your face every day was as important as having the perfect shoes.
Fortunately for me and others possessing poor eyesight but an excellent sense of style, the eyeglass industry had recently discovered how to put a prescription into oversize lenses, allowing the availability of much larger and less nerdy frames. I had two pairs of trendy glasses, one pale blue and the same frame in tortoise with gray lenses, from Rich's department store in Atlanta but what I found on Sunset Boulevard was a whole new world of possibilities. For the next few years, all of my prescription glasses would come from Optique Boutique.
The walls were covered with framed photos of the shop's celebrity clients wearing the glasses crafted for them. In the mid-seventies, frameless prescription glasses came out, making it possible to cut the lenses into custom shapes like hearts, stars or anything a customer could dream up. No longer were prescription glasses confined to the small selection of styles offered by manufacturers — choices were limited only by the buyer's imagination and pocketbook. For Elton John, there were no limits on either. 
Even in the glam rock '70s, Elton John stood out for his flamboyant taste in costumes and eyeglasses, so Dennis Roberts played a major role in crafting the singer's image. Undoubtedly the most fabulous specs were the rainbow-emblazoned pair with 18-carat gold and platinum frames set with 103 sparkling diamonds worn by John on a Cher TV special. The price tag for these glasses? $3,200. This was just one pair from John's large collection of dozens of custom glasses from the Optique Boutique, including one sporting piano keys and another with his initials set off by twinkling lights.
One of Roberts's favorite customers was Elvis Presley, who purchased over 400 pairs of custom sunglasses from the Optique Boutique. In addition to the prescription numbers he wore himself, Presley gifted his signature specs to friends, bandmates and his Memphis Mafia. The King's trademark aviator style, known as the Neostyle "Nautic 2" had shaded purple lenses and was embellished with the Presley 14K gold "TCB" logos on each arm. One pair went for $43,125 at an auction in 2020.
Another iconic piece of eyewear was the pair of custom aviators worn by Steve McQueen in the 1971 film "LeMans." These one-of-a-kind sunglasses featured tinted plastic lenses in gold-toned frames. One of the store's biggest spenders was Sammy Davis Jr., who ordered more than 400 pairs of glasses during the 70s.
When he wasn't helping celebrities craft their unique images, Dennis helped ordinary folks like me design the perfect pair of glasses to suit our own looks and personalities. I've never found another optician who could do a gradient like he did. Alas, I don't have any of my own Optique Boutique glasses today.
I checked out Elton's line of eyewear at Sam's Club and found them rather boring compared to the real thing from the Optique Boutique, especially at prices up to $500 but they made me happy about one thing. When I became eligible for Medicare a few years ago, I had my eyes corrected so I don't need prescription lenses anymore.