The new year brings new statewide rules that compel cities to provide separate collection services for organic waste in order to keep it out of traditional landfills — and you're required to help.
West Hollywood residents and businesses will be required to separate their organic waste from other trash and dispose of it in their green bins, alongside their yard waste. Organic waste includes food such as:
fruits
vegetables
meat
seafood
bones
eggshells
paper products like used pizza boxes, grass clippings, tree limbs and untreated, unpainted lumber
This past November, Brandon and I set off with Mike Lewis to visit the Athens Services' Materials Recover Facility (MRF) in Sun Valley. Athens Services is contracted to handle all of West Hollywood's trash and recycling. We were greeted by Executive Vice President Gary Clifford.
"Welcome to a place that will transform the way you think of trash," he said.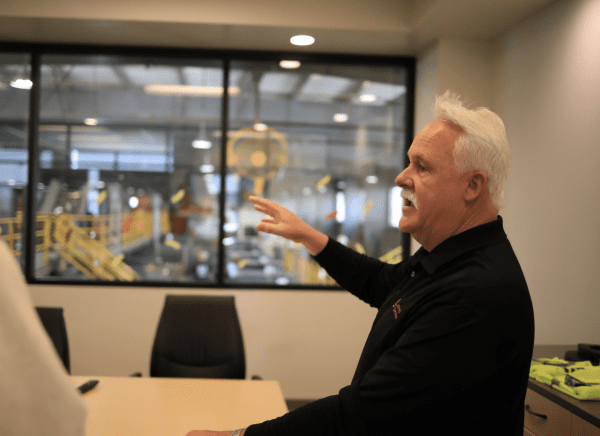 Let's start off with a few basic questions. How many routes are there in West Hollywood?
There are nine routes, which means there are nine trucks that service West Hollywood.
How much is the City of West Hollywood's contract with Athens?
West Hollywood just banned single-use plastics. We're able to detect it with these with this equipment and i'll share with you even. Some of our larger customers that are part of the Athens family are making purchasing and buying decisions for the cafeteria. Fours and six is the styrofoams and then there's a seven, a seven is a mutt that's going to be all the plastics kind of mixed up together. There's really no home for it, there's really no market because it's so hard to break down. As Gary was talking about, we have some new technologies coming on board where what will happen is we can get all of those items together and we can use it for other types of fuels with other partnerships and we can break those particular plastics down to the next level so they can burn cleaner. A lot of times they're burning coal and different things like that effect our environment versus burning a lot cleaner. Plastic of that are three or four still becomes recyclable domestic, there's just so many things that we're working on to try to make the domestic recycling market better than shipping everything to China.
I've been around for a while, so I have friends and sometimes their kids will act up and say i don't want to go to college. And you know college isn't for everybody. My buddies will call say hey can keep my kid down to the MRF for the summer on the hottest day, and have them come to work maybe they'll figure out they want to go here. The kids come down here and they're like hey man it's not that bad. This isn't that bad of a gig.
I think it's probably $7-10 million. That is based on the amount of homes, the amount of commercial business and and the industrial roll-off, and then the construction and demolition. There are four different revenue streams and that's how you determine an aggregate total contract with the city.
Does Athens also have the contract with West Hollywood and Beverly Hills?
Beverly Hills has their own residential pick-up service, but they bring it here to our Sun Valley facility where we process all the trash from West Hollywood also. We do all the commercial in Beverly Hills, and also Hollywood; we do the commercial but the residential is done by the City of Los Angeles. Santa Monica also does its own residential trash pick-up, but if you look at the rate comparison of the different areas, it's incredible what a city charges for trash pickup. Cities should not be in the trash business. Look at the cost differences.
When cities do their own trash pick-up, they can't keep up with the technology. They can't keep up with the capital intensiveness of the business. A city would then have to buy new trucks, and they would need the fueling station, and it gets to the point where it's not worth it.
What I want to tell you about Athens is we're a different kind of company.
Most other waste management people, Republic and all the other guys, pick up trash and they have a model where they take it to a landfill because that's how they make their money. They take their recycling to somebody who will recycle it and take their grass to a landfill.
Athens is different. We build these plants. We bring all of our trash, all of our recycling, all of our green waste to a plant that actually processes it, because we're what we call a landfill avoidance company.
Athens Services wakes up every day and we try to figure out how to avoid landfills, not take stuff to them, because that's our model. We do not own a landfill. Our model is to avoid the landfill.
We create jobs locally to try to remove everything we can before it goes to a landfill and that's why our cities have higher diversion rates. Most people don't understand our message, but we're a totally different company than the other companies. For instance, every other city that has a black barrel, a blue barrel and a green barrel. That black barrel just picked up through the landfill and I would estimate 20 or 30 percent of it is recyclable. We take that same black barrel and bring it to a plant that processes it. We have four of these plants and we're building another one.
When you walk through the plant you will see the time and the effort that we put into removing recyclables from the waste stream. It might cost a little bit more money but comparing Athens' rate versus others is not the same thing. We have this plant to avoid landfills, and don't just take the trash to a landfall.
The funny thing about West Hollywood, which we affectionately call WeHo, is that your rates in that city are still eons below all of the cities surrounding you.
Look at Los Angeles: they got a 35 residential rate and West Hollywood is at 17. If you look at Beverly Hills they've got a 54 rate; you're at 17. You look at Santa Monica, all of the other cities Athens has been providing that service, and you're still well below. West Hollywood locked in those long-erm rates for its residents.
I recall a previous City Council making the case for the extension so that the cost can be amortized over a number of years. Were you at that council meeting?
Yes.
Is West Hollywood's diversion rate more or less than neighboring cities?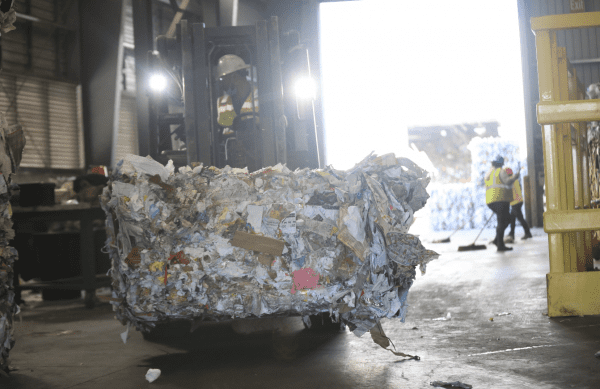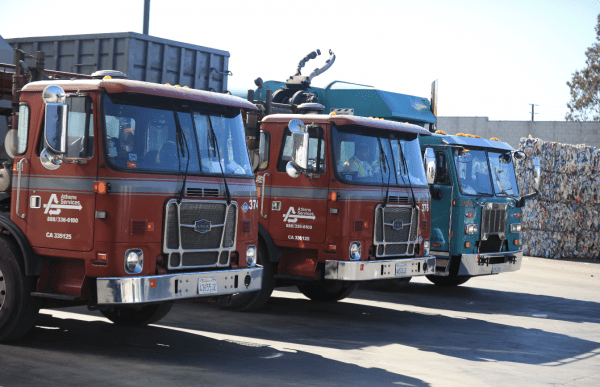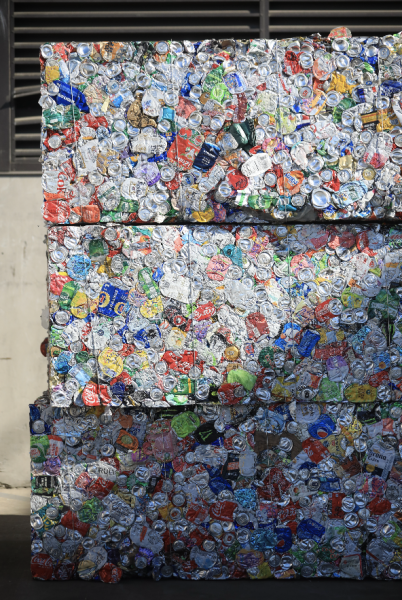 West Hollywood's rate of diversion is higher than all its neighboring cities. West Hollywood's diversion rate is one of highest in the region. All the waste comes to our plants. Your recycling bin comes here, your waste goes to Crown and some of your green goes to Crown and the City of Industry. Your last load goes to the City of Industry — the organic waste — but we recycle all of your waste streams. And quite to the contrary, your recycling rate and your participation rate in those things is higher than any of your surrounding cities. West Hollywood is one of the greenest cities in that region, and there's only one other city that is equal to you, which is Redondo Beach. Theirs is close to a 75 percent diversion rate. The diversion rate is how much we can avoid the landfill.
We build these plants that are 50 to 80 million dollars each and we put them in regions like this and actually try to remove things from the landfill to help mother-earth but also to reuse this product. I promise you this when you leave this place, you'll think differently about trash. When I was the Mayor of my city for a long time, and I took my wife's group on a tour of our City of Industry and those ladies all went home and said "Oh my God, I'll never think of trash the same way."
As costs go up to the multi-family landlord who's unable to pass it through to the tenants because of rent control, what happens?
You know that's out of my pay grade in Athens. Rent control has its own set of rules but usually what's passed on is incremental. It's not huge so they they can incorporate into their their rent increases and there are extraordinary things that can happen and cities have no choice to be compliant to the new state laws.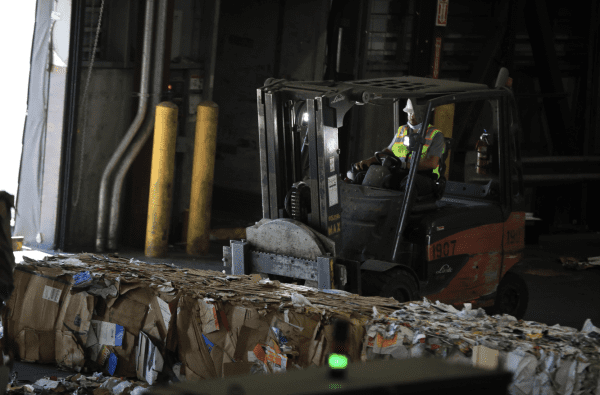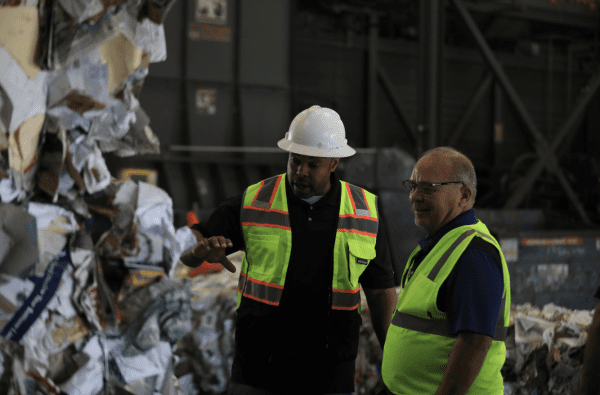 Tell us about the plant?
The Sun Valley Materials Recovery Facility spans 80,000 square feet and employs 170 full-time workers
The facility does not emit odors. On the roof we have the cylinder pieces that force the air up and out of the building. Exhaust fans that have negative air pressure. Neutralizing agents make sure no dust is released in the air. We don't want our neighbors to know that we are here.
First thing we come across is our in-bound and out-bound scales. We begin by going through radiation detectors to make sure no radiation comes into the facility, which is prohibited. And when it does it is usually thyroid medicines, or if somebody had some out-patient chemo therapy and threw something away. That goes to a special area in a landfill.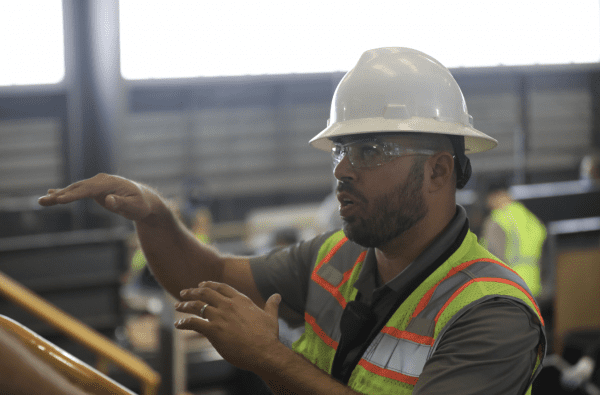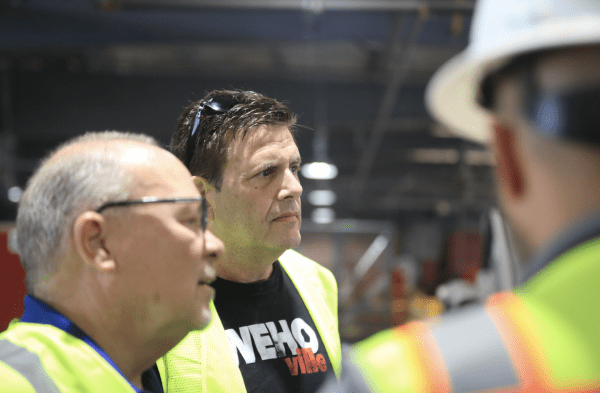 Next we go to fast pass RFIV system. This is a sticker reader that picks up the information from the truck. And in the kiosk, passed the ticket, and thats how we know where the trash came from. At the end of the day we can print reports of actual tonnage and what route the trash came from.
After that we go into our floor, fast action misters knocking down dust, and neutralizing agent, the truck will then come into the facility dump its load. There is a team that looks at every load that comes in that is able to move though the pre-sort area, and pull any larger recoverable recyclable items. For some reason we get Christmas lights all year round! So the larger pieces drop down in the pre-sort area. Then we get to the bag breaker, which breaks the bag open and frees the material that is inside and re-introduces it into the sort system.
Next is the OCC , or cardboard separating screens. The glass is funneled to its own line. Cardboard is the segregated. The rest of the debris falls down and continues through the process. Glass is removed, organic finds are removed and goes into its own bunker.
Next is the knee-hot, which helps to separate material by density. High value items, bottles, cans, etc are pushed up and over; heavier items fall into their own line. (a phone book), air come in and paper light items continue through the process, the heavier items falling down down.
Next is the polishing screens. These work by using angles and gravity so as material hits the screen, paper continues up and over, bottles and cans they roll backwards so it can go to its own line. The paper will come to the paper fine screen, moving waste, an optical sorter separates it out. Good quality paper goes into its own bundle. And then the optical sorter separates the plastics by its own type. A light source shines on the plastic and looks for a reflective signature. water bottle, (can see thru), or a tide bottle, all different types of plastics, these sorters can recognize the different types of plastics. Milk containers, shampoo bottles or poly-propolene-5, like Starbucks, 7-11 cups, medicine bottles, we are able to do separation by plastics. We have four different optical sorters. Next is the anti-current or aluminum separater and it is separating the aluminum from the rest of the materials that come across. We bale those items and go to trucks that go to the ports domestic or internationally. Anything that we cannot recover goes to a landfill.