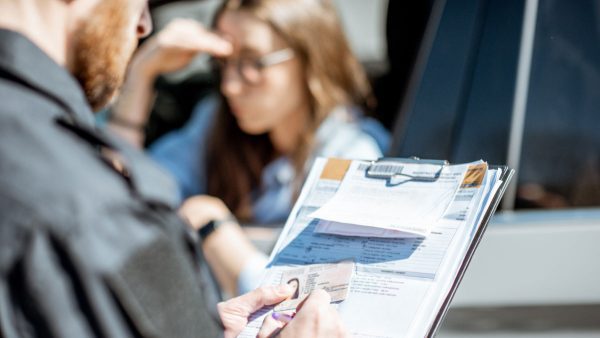 While most West Hollywood residents say they want more law enforcement on their city streets, City Council may decide to go in a different direction.
On Monday evening, they will discuss whether to reduce or eliminate the enforcement of "low-level traffic stops" by sheriff's deputies and other sworn authorities within the city limits, a yet-to-be-determined list of offenses that might include:
Driving with one headlight or having a broken brake light
Having a registration plate that's not clearly displayed, fastened, or visible
Driving without an inspection or emissions sticker
Bumper issues and minor obstructions (like something hanging from a rearview mirror)
The proposal was written by Mayor Pro Tem Sepi Shyne and Councilmember Lindsey Horvath specifically to combat excessive police profiling of racial minorities, particularly Black and Hispanic drivers.
A state-sponsored report from 2020 said the majority of individuals stopped by police were perceived to be Hispanic (40.4%), white (31.7%), or Black (16.5%).
From the report:
Officers searched, detained on the curb or in a patrol car, handcuffed, and removed from vehicles more individuals perceived as Black than individuals perceived as white, even though they stopped more than double the number of individuals perceived as white than individuals perceived as Black. And Black and Hispanic individuals were more likely to have force used against them compared to white individuals.
According to 2020 U.S. Census data, 3.6% of WeHo's population is Black — approximately 1,287 residents out of 35,757 total. Hispanics account for 10.3%, or 3,682 residents.
The staff report highlights Berkeley, Minneapolis and Philadelphia as cities that are "explor(ing) alternative models to traffic safety that do not rely on armed law enforcement" — seemingly the overall goal of the proposal.
The policies present "risks in both directions," Dennis Jay Kenney, a professor at John Jay College of Criminal Justice, told CNN last fall when Philadelphia passed its law.
"The danger of not eliminating them is that it drives a wedge between the public and the police," Kenney said. "If you're tired of driving while Black, you're less likely to cooperate during these stops."
"(But) by saying these violations no longer matter, then to the extent that they impact public safety, then public safety will be negatively impacted," he said.
Even if City Council moves forward with the proposal, it's not clear whether WeHo could legally enact it.
The City Attorney will be tasked with working out the details, including the "allowable course of action" with the Sheriff's Departments. Depending on "possible legal impediments," WeHo's law could go as far as banning the enforcement of low level traffic stops altogether — or end with a simple, largely ceremonial resolution declaring them a low priority.
Never before has the city attempted to ban the enforcement of any particular law; however, the city has in the past declared infractions such as medical marijuana possession and sex worker-relaetd offenses to be "low priority."
"The proposed change is meant to focus on non-moving violations that do not impact public safety," the report reads. "Any new policy or ordinance would not impact the Sheriff's Department's ability to enforce moving violations and other traffic violations that are related to public safety, such as speeding, running red lights or stop signs, or driving under the influence."