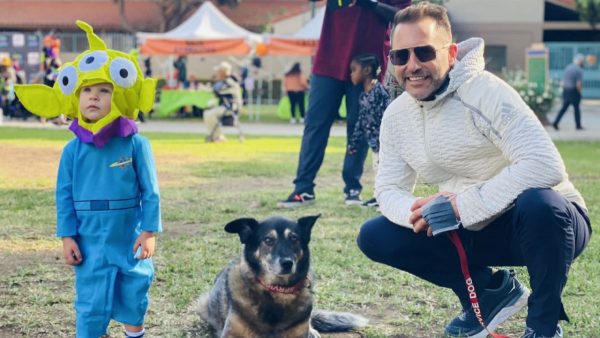 Danny Roman, owner of Bikes & Hikes LA and a member of the Public Safety Commission, answers our questions about rising crime in the city, whether we need our own police department and which is the toughest hill to bike up in WeHo.
Who is Danny Roman and what's his deal?
A father to a 20-month-old human, a (rescued) dog, cat and two parrots, an animal rights activist and a lover of nature and the great outdoors. Born in NYC in the VERY VERY VERY late '70s and moved to WeHo in 2004, falling head over heels in love with the SoCal lifestyle. I started my career working for the top L.A. entertainment companies CAA, Scott Rudin Productions, Paramount, Disney, etc.
And while settling into the city, I started diving into experiencing the city on bike and foot, opening up Bikes and Hikes LA in the heart of WeHo in 2011. The idea was to offer visitors to the city a way to experience it that did not involve a van, car, or double decker bus. With year-round perfect weather for open-air tours, I realized nobody else was offering such a unique way to showcase the city.
The concept quickly took off, and before COVID, I (along with 30+ team members) was hosting thousands of guests each month on our tours. During that time I also worked closely with animal organizations and helped rescue and re-home animals, including working with PETA as an undercover investigator to help animals in the LA area that are being neglected. In 2020 when COVID hit, Bikes and Hikes LA was completely devastated; no tourists = no business. With the gyms and spin studios closed and my son about to be born, I quickly switched gears and turned the tour company into a bike shop, selling off our entire bike inventory in a matter of weeks and officially launching a bike shop called BIKE SHOP LA – www.bikeshopla.com.
As biking increased 92 percent in LA during COVID, Bike Shop LA did extremely well. During this time, I also became very involved in the community. As crime increased, I became more vocal with our awesome city council, and John D'Amico asked me to be a part of the Public Safety Commission (which I was thrilled to do).
How has the city changed most noticeably since you moved here?
For starters, when I moved here a two-bedroom condo went for $300,000. Now they are over $1.2 million. The city went from a small gay town vibe to a sophisticated, innovative city.
What's the safest place in the city? The least safe?
Sunset Plaza would be my vote for safest, least safe is mid-city and east side, even though more crime has been recently reported on the west side of the city. Historically the La Brea / SMB area has a lot more problems.
What's your overall view of law enforcement in WeHo?
The city is a hot mess when it comes to proper policing but all of us on the Public Safety Commission are determined to sort it out — hang in there.
What about Block by Block ambassadors? Do they serve a purpose?
I count on Block by Block more than I can count on our local police; they actually check in with my team and are on the ground, biking around engaging the community and our unhoused while the police drive around in their cars and refuse to walk the beat or ride a bike. Police blame Gascon, residents blame police — it's a big, archaic, dysfunctional machine, and until we hire our own police department and carefully vet police officers to make sure they are passionate about what WeHo stands for, we have no chance to make the changes we need to make to ensure the proper safety of our residents. I am hoping the city council realizes this sooner rather than later. It's more expensive, but we will be much better off in the long run and we can offset the costs by fining violators.
What are your thoughts on establishing a WeHo PD?
YES, YES, YES. We hire the sheriff, and we approve each police officer that comes into our town and we set up a report card grading systems. We make sure they are properly trained in working with cutting-edge technology, cameras, apps, etc. We can help offset the cost by ticketing offenders in our city: bad driving, parking, breaking laws, etc. When was the last time you saw police officers ticketing bad drivers? My street, Laurel between Sunset and Fountain, is a racetrack for commuters coming down from Laurel Canyon. It's the first street they can really go fast on. If there was a cop stationed on my street every morning it would be a gold mine for WeHo.
They refuse to walk/bike the beat. Community policing is 100 percent effective and our officers drive around in cars and have no direct contact with residents, business owners and the unhoused
The police department is not technologically advanced; they don't utilize social media or apps such as Citizen, Nextdoor, etc.
The police department rotates their officers. For example one day an officer can be working in WeHo and the next they are downtown. They don't know our 'hood. I have suggested to Lt. Moulder so many times to make each officer that comes into WeHo stay for at least a year. If they are good, then let them stay longer than a year, and have them undergo special diversity training. Also, bring in more gay/trans cops, female cops, etc.
Should DA George Gascon be recalled?
YES. I am all for figuring out innovative methods for dealing with criminals, but his way is not working for us. Police are flat-out refusing to arrest people because they know it won't do anything and they don't want the paperwork.
Some city leaders have dismissed residents' fears about increased crime as unfounded. What are people on the streets seeing that city leaders aren't?
Crime is here, it will always be here. Try going downtown or to Hollywood and you'll truly see a shit show. I know for sure Mayor Meister, Councilmember D'Amico and Councilmember Erickson are on the pulse and trying their best to make the necessary changes to keep us all safe.
What do small businesses owners like yourself need from City Hall more than anything else at this moment?
Cops walking the beat and cops biking. Community policing. When I speak to some old school neighborhood watch captains, I am told they have been asking for this for over a decade. Why this is such an impossible task is beyond comprehension.
As the owner of a bike shop, what's your take on e-scooters and e-bikes? Do they spell doom for traditional bicycles? How are scooters, cars, bikes, pedestrians, all going to fit on the roads/sidewalks of the future?
Anything but cars is our motto. Bikes and Hikes LA just won a WeHo Green City Award for 2021 for a reason! But we first need a safe alternative transport lane in our city. More and more people can't afford or don't want to drive. We need to prioritize those people who want to walk, bike skate, scooter, e bike, run, roller skate, crawl, unicycle. We need to do this for soooooo many reasons. Cars need to take a back seat. If we build these safe lanes ,more and more people will hit the streets without their cars and we will make for a safer, cleaner, healthier city. Check out what Redondo beach did. Can you imagine having one of these down SMB from La Brea to Doheny? (photo below)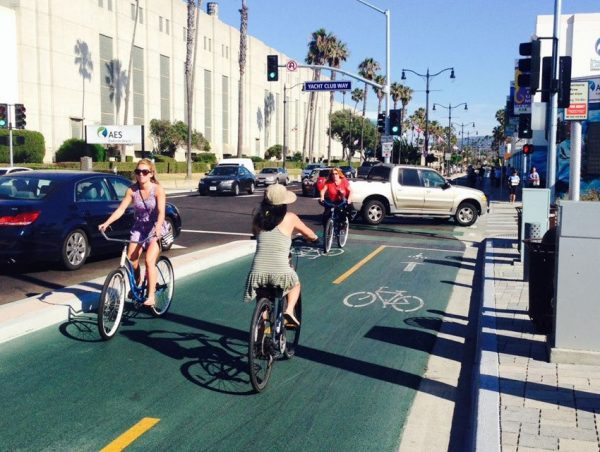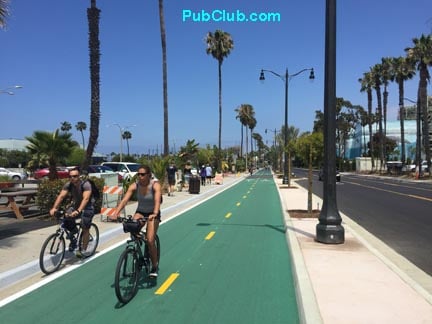 Favorite hill to ride your bike on in WeHo?
For a hardcore work out bike straight up La Cienega to Sunset, better than any indoor Spin class. Our motto: Let's have a moment of silence for all those Wehoans sitting in gridlock traffic on their way to the gym to ride a stationary bicycle. Get a bike, break free!
---
Hikes & Bikes LA
www.bikeshikes.com | www.bikeshopla.com