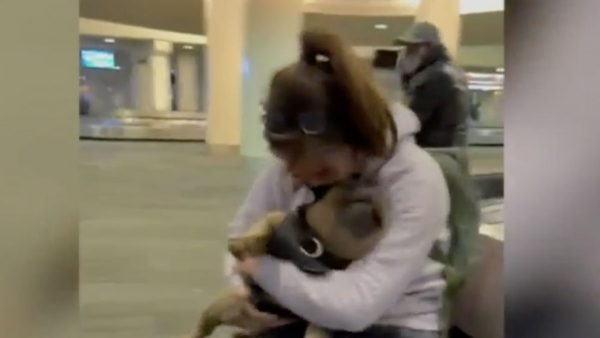 UPDATE: Rachel Avery has been reunited with Jag, her French bulldog stolen just over a week ago from his front porch, according to ABC 7. Avery received a call from a person in Philadelphia promising to return the dog if she wasn't prosecuted. Jag is now home safe.
---
Three men in an SUV stole Jag, a French bulldog, from his front porch last Sunday evening around 5:30pm after the dog managed to slip out of his collar while being walked by a guardian. The dog proceeded to desperately run home to safety when three men in a black SUV saw the dog running on Sunset and Sweetzer and started chasing him by foot and in a car, telling people it was their dog and asking if people could help them catch him. Running so fast, the dog managed to escape the thieves on Sunset Blvd. but they were persistent, acting fast to kidnap this beloved family member. 
The French bulldog made it home, sitting scared on the front doorstep waiting for the door to open. His owner, Rachel Avery, was running around the neighborhood frantically trying to find him. After escaping the thieves the first time the SUV pulled up again outside the Avery's residence, got out, and started asking neighbors where the dog was — not because they wanted to find its owner, but because they wanted to steal it.
It was pointed out that Jag was home on his front porch when the thief began telling people, "That's my dog Chico". The thief then quickly took the dog from his front porch and put it in the SUV. The man wasn't interested in finding the owner and is suspected of ill intent of depriving the owner of permanent loss as he never knocked on the owner's door lying telling people it was his dog.
The license plates were taken because of the suspicious nature of the incident. One witness said, "That dog looked scared when that man picked him up and I just knew then it wasn't his dog". 
The license plate was a rental car from Enterprise returned the next day. Several witnesses at the scene of the crime gave detailed descriptions of the thieves. Video footage was found from restaurants on Sunset Blvd. with the thieves. "I'm astonished at how many witnesses took the time to care and rally to provide so much evidence," Avery said.  "I can't believe these people commited a crime so blatantly in broad daylight with so many cameras and witnesses.
As evidence builds it's only a matter of time that these dognappers may be charged with grand theft and burglary. 
Avery says she only wants her dog back saying she's willing to drop all grand theft investigations if she simply has her dog back safe and healthy. Jag has special medical needs and was on medication and a special diet. Without it, Avery doesn't know how long he will live. 
There is a $5,000 reward with the safe return of what the owner says is her "snuggle buddy". No questions asked.
"It just kills me that cruel people took advantage of an already horrible situation. I was terrified that Jag was going to get run over by a car but I never would have imagined he would be taken within a matter of minutes. I haven't slept or eaten since he's been gone. I cannot imagine my life without my baby boy. He is my pride and joy. I don't have biological children so he is nothing less than my child, snatched away from me. I will never give up looking for him. Never."
Please call 760-833-2096 with any tips or information.