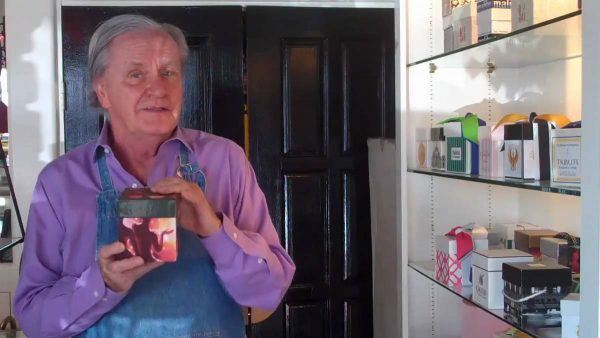 UPDATE: After being forced out of its longtime location on Harper Ave. Timothy Jay Fragrance Candles has found a new home at 7209 Santa Monica Boulevard.
A cold wind blew through Timothy Jay Sullivan's candle shop in West Hollywood late last month.
The landlord he had considered a friend was suddenly demanding he move out by the end of December — his busiest month.
"My mouth dropped," Jay said. "I had to beg to get another 30 days."
Barring a miracle, Timothy Jay Fragrance Candles will close on Jan. 30. Sullivan is currently seeking a new location for his store but has had little luck.
"It's taking some time because it's almost Christmas and nobody really wants to work," he said. "We make all these phone calls and we don't hear back."
It's a sad chapter for the store that began 24 years ago in a bright moment of serendipity.
Sullivan, a New York City advertising executive who had recently become sober, finally decided he'd "had enough" and moved cross country to West Hollywood, where one of his sponsees was looking to make a candle for Christmas.
Instead of visiting little hobby shops for the supplies, Sullivan had a better idea — he called friends in New York who were with Lancôme to find out how they should do it. His friends sent him fragrances they thought he'd like, and Sullivan and his sponsee started making candles one at a time with a double boiler, passing them out to friends and acquaintances.
One candle ended up in a friend's antique shop on La Cienega. A "wealthy, very famous" woman had bought something in the store, Sullivan recalls, but they had nothing to put it in — except a shopping bag containing Sullivan's candle. The rest was history.
"She went crazy over it," he said. "The next day her assistant called me and ordered 28 of them."
Over the years, the candle shop has been a beacon for people in recovery from substance abuse.
"I knew some guys in the program with me who needed some work as well so I said, 'Why don't you come and help me make candles and I'll pay you?'" Sullivan said. "And that's how this whole tradition began of well over 150 guys now who have worked here over the 24 years producing candles in a very safe and sound atmosphere."
Sullivan first found the location of his shop, a former dry cleaners, on a walk with his dog. He removed all the tracks and machinery himself, and had always enjoyed a friendly relationship with his landlord.
"I don't have a lease because the owner was, I thought, a friend of mine who just let me stay and stay and stay for 24 years, and to serve notice on me this way was rather shocking, seeing that I held keys to all the properties and I even showed them to prospective renters when nobody was around."
But Sullivan isn't about to let the flame die out.
"I am so happy that I have ended up this fortunate," he said. "I'm 81 now and I work six, seven days a week, which makes me happy, and I have a great product and a great reputation. What else would you need?"
For more information or to purchase a candle, visit https://timothyjaycandles.com/