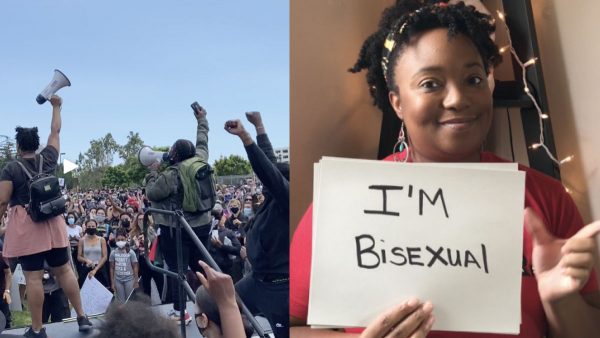 Shyne, Horvath propose Plummer Park fair, virtual wellness event hosted by Mayor Pro Tem's wife
West Hollywood is looking to celebrate Black History Month by co-sponsoring two proposed events in February.
The first, called "Sacred Space," is a virtual wellness event hosted by Still Bisexual, a 501(c)(3) organization that educates and advocates on behalf of individuals who identify as bisexual, pansexual, fluid or queer, or those prefer no label at all.
Still Bisexual rose to prominence in 2015 through a viral video posted by founder Nicole Kristal describing her experience being discriminated against by both the straight and gay communities. The video spawned a successful #stillbisexual series, inspiring Kristal to found the organization.
"Sacred Space" will feature a meditation practitioner and a sound bath practitioner leading participants in breathwork, self-massage and other therapeutic exercises via Zoom at 7:30 p.m. Feb. 9. The event will be hosted by Still Bisexual boardmember and events coordinator Ashlei Shyne, the wife of Mayor Pro Tem Sepi Shyne.
Ashlei Shyne is a comedy writer, actress, filmmaker and bisexual awareness advocate who has worked with #Out4MentalHealth and the Human Rights Campaign. She created the "Sacred Space" event series and "brought the world's first city-sponsored Bi Pride to the city of West Hollywood," according to her website bio. She is also a massage therapist and reiki master, as well as the owner of Buddha's Bungalow, a mobile massage company.
The second event, a community fair highlighting Black-owned businesses and nonprofit organizations, is tentatively scheduled for Feb. 19 at Plummer Park. Hosted by Black Women Lead, the event will feature vendor booths, a speaker stage, panel discussions, and live entertainment.
Black Women Lead was formed two years ago by Shannon Morton, a member of WeHo's Social Justice Task Force, in the wake of the George Floyd and Breonna Taylor killings. The nonprofit organization amplifies Black Women's and other underrepresented voices and leadership abilities within their own communities in Los Angeles and surrounding areas.
Morton, appointed to the task force by Mayor Lauren Meister, began her activism with a public celebration of Breonna Taylor's birthday at Pan Pacific Park which drew thousands of people in the midst of the pandemic.
The proposal, authored by Mayor Pro Tem Shyne and Councilmember Lindsey Horvath, requests $850 in city funds for Still Bisexual's event and $9,350 for Black Women Lead's event, as well as $2,050 in waived permit fees.
The funding for Still Bisexual's event would cover the cost of the practitioners plus supplies and a gift for the attendees. Ashlei Shyne is hosting the event free of charge.
The funding for Black Women Lead would pay for supplies, marketing, planning, production, and entertainment.
The proposal is item 5c on the January 18 agenda.