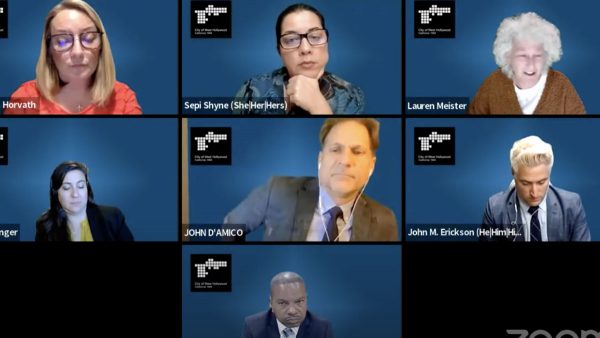 City Council passed a proposal this week to explore the stopping or reduction of low-level traffic stops in West Hollywood.
Mayor Pro Tem Sepi Shyne and Councilmember Lindsey Horvath, who authored the proposal, reminded the public that it was only a first step.
"This is direction to the city attorney to work with the county to investigate precedent and to come back to council with direction that reflects the needs of our community," Horvath said. "the goal behind this is to de-escalate situations to make sure that from a cost perspective that we're making best use of our resources both in terms of dollars and cents but also in terms of the time that our law enforcement officials have to spend on in addressing and preventing crime in our community."
Shyne presented statistics that support the presence of racial biases in traffic stops.
"People who were perceived as black were searched at 2.4 times the rate of people perceived as white," she said. "Overall officers searched 1870 more people perceived as black than those perceived as white. In addition transgender women were searched at 2.5 times
"I can't wait one more day to provide justice for black and brown people that are being pulled over at a higher rate, that are having use of force at a higher rate — and so this is really what this is about," Shyne said.
Though supportive of the proposal's intent, Mayor Lauren Meister was hesitant because West Hollywood-specific data from the Center for Police Equities had not yet been produced and presented by city staff. 
"I, too, like you, Mayor, when I met with staff had a lengthy conversation about the Center for Police Equities report," said Councilmember John Erickson. "I think I myself might be back in senior care back in Wisconsin being cared for by my nieces and nephews by the time that item seems to be coming back to us here at council."
The proposal passed 4-1, with Meister as the lone "no" vote.