I met Christopher Reeve in 1976. 
As West Coast rep for "Soap Opera Digest" I wrote 2 different columns a month and I covered the soap opera scene.  While visiting New York I asked my editor for a few assignments to pay for my trip.  I was told staff writers do that and they wouldn't pay anyone else so I asked for a list of the people THEY couldn't get.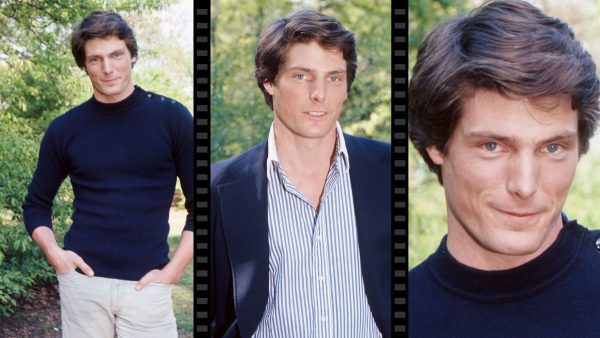 On the "unattainable" list of soap stars were Joan Bennett and Jonathan Frid, ("Dark Shadows" superstars who didn't do press) and Christopher Reeve.  Christopher had played Ben Harper in "Love Of Life" since 1974.  When he was cast opposite Katherine Hepburn, as her grandson, (at 24), in the Broadway production of "A Matter Of Gravity," (he later told me)
"Hepburn advised me to quit my soap because I showed so much promise, I took her advice and didn't resign with "Love Of Life." I managed to get both Jonathan Frid and Joan Bennett to do an interview and photos.  In fact, ABC bought some of the photos from me because they wouldn't do photo shoots for ABC. But that's another story. Two down and one to go!
As luck would have it, I knew a beautiful young woman Reeve was dating and asked her to invite both of us to dinner.  Over dinner I asked if he'd given any interviews about leaving "Love Of Life."
He explained "I don't talk to press much."  I told him he needed to talk to one writer who'd give him approval of the story and pictures because if he didn't, publications would make stuff up that would follow him his whole career. 
He asked, "Can YOU do it and give me story and photo approval?"  He probably figured I'd planned this, (he was no dummy), I gave him my guarantee.  When the story was done and approved, I went to his apartment to shoot a home layout.  My biggest laugh came when I saw that lady killer Reeve had bunk beds in his apartment!    
We hit it off fine and I offered him my spare room, in my West Hollywood apartment, if he found himself in Los Angeles.  I'd also had Richard Hatch of "All My Children" and "Battlestar Galactica" as a frequent house guest as well as Kate Jackson, after she quit "Dark Shadows" and moved to L.A.  They both eventually moved into my building at 940 Larrabee Street, a block south of Sunset.
Six months later Christopher Reeve called to say after his Broadway show closed (on April 10th 1976) he'd been flown to Hollywood by Universal Pictures to test for the lead in the mini-series, "The Captains And The Kings," but he lost the part to Perry King.
The ever clever Universal Pictures decided to cover the cost of flying him to Hollywood and putting him up at a posh hotel by casting him in the film, "Gray Lady Down," (1977), which starred Charlton Heston, Rosemary Forsyth, Stacy Keach, David Carradine, Ned Beatty and Ronny Cox. It was a short shoot for him and Universal soon cut him free and stopped paying his expenses. 
He called me to ask to stay in my guest room because, apparently, he was in the midst of negotiating to buy a small plane..well excuse me!  I told him I'd be happy to let him use my guest room, (who wouldn't?).  That night I made us dinner and asked what his future plans were. 
He said, "I'm going to do off-off Broadway and learn my craft!" I told him, "That's very noble but after starring opposite Katherine Hepburn on Broadway it would be 10 steps backwards." I suggested he do commercials for financial support to wait for something on Broadway. He said he didn't have commercial photos and I explained it was what I did for several agencies in Hollywood. We went to the top of Doheny Drive and I shot him with a flash fill light as a red sunset went down. 
The shadow from the flash gave him a strong jawline.  The next week, back in New York, he landed 2 national commercials and his agent, Stark Hazeltine, sent two of my photos to the Salkind Brothers in London.  They were casting the film version of "Superman" and though he'd been turned down twice already, they saw The Man Of Steel in my photos in his jawline.  They flew him to London, screen-tested him and hired a trainer to build him up and that's how Christopher Reeve became Superman. 
The story doesn't end there.  The next time I saw him was at the premiere of "Superman" at The Chinese Theatre.  He pulled me from behind the barricades to introduce me to Gae Exton, the mother of his 2 children, (his partner from 1978-1987). Reeve said, "Tony took those great pictures you liked.  I remember talking on your couch about getting from there to here! Nice seeing you pal." 
As I went back to the barricades I thought, "No…let's do lunch, dinner or photos, ha! In 1977 I shot Lynda Carter unveiling her latest "Wonder Woman" poster at a party in Beverly Hills posh Bistro Restaurant.  As I came down from the private dining room, her publicist grabbed me and said, "You Know Christopher Reeve right?" I nodded and she added, "Well Lynda is having dinner and he's at the bar.  She'd love to meet him and you could shoot them together." 
Visions of "Superman meets Wonder Woman" in Newsweek, Time, People etc. danced in my head.  I went to the bar and said, "Hi Christopher!"  He looked at me and said, "Hi Joe." I shot back with "The name's Tony." "Oh, that's right.," he said.  I told him about Lynda Carter wanting to meet him and be shot with him and he said, "Well I'd like to meet her but I don't want to be shot with her."  "Not even for me?" I asked. "Not even for you," he repeated. Furious I said, "well go meet her yourself" and left!
My last encounter with Chris came in 1980 when he was starring on Broadway in "The Fifth Of July."  I went to The Ford Modeling Agency Christmas Party at The Academy Of Music movie theater on 14th Street in NYC (where the Palladium Residence Hall now stands). I only went because it was the movie house I haunted as a kid.  I took my very pretty cousin, Donna Prentice, as my date.  I left her at our table while I went for drinks.  On the way back I ran into Christopher Reeve. At least he remembered my name this time, and I said, "Well I guess I gave you good advice about doing commercials and waiting for Broadway to call.  Well here you are starring in a big Broadway hit, "The Fifth Of July." 
He said a lot of nice things to me but none of them contained let's have lunch or dinner or do another shoot sometime. So I said goodbye.  My cousin wanted to meet him and I told her, "I just did all that, go yourself and tell him you're my cousin."  She was gone the better part of an hour and when she returned she said, "Boy does he love you! He said how instrumental you were in his career"  I thought to myself… "I may have only had 2 photo sessions with him but I'm grateful for the impact those photos had. 
It was tragic that his life took the terrible turn it did, he broke his neck jumping on a horse, but he still did great things for people suffering as he did and he even directed a film, in that condition.  I feel fortunate to have known him and been a small part of his life story even though no one knew it until now!