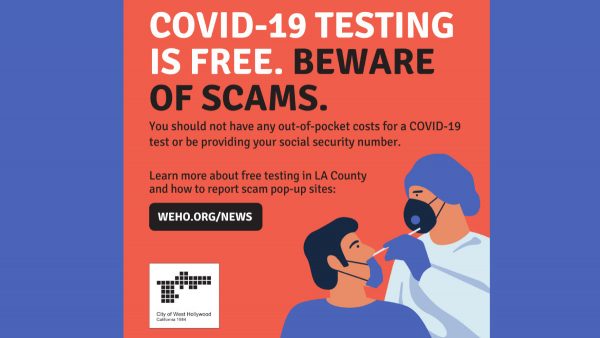 Demand for COVID-19 testing in Los Angeles County has skyrocketed during the past several weeks. Sharply rising COVID-19 case counts and positivity rates coupled with the aftermath of holiday gatherings and travel has led to an unprecedented demand for testing. Unfortunately, this demand has led to scammers distributing and setting-up fraudulent COVID-19 testing sites, some of which are requiring those seeking tests to pay a fee and/or provide a social security number.
As a reminder, community members should not have any out-of-pocket costs for a COVID-19 test or be providing their social security number. Free testing options are available, and public and private medical insurance companies are required to cover the cost of COVID-19 testing and treatment without charging any co-pays. The City's Code Compliance Division is working in coordination with the West Hollywood Sheriff's Station to shut down scam pop-up testing sites. Community members who are concerned about illegitimate testing sites may reach out to the City by calling the Code Enforcement Hotline at (323) 848-6516.
The City of West Hollywood is getting the word out that COVID-19 testing is available for free to anyone in LA County, regardless of health insurance or immigration status. If you are experiencing symptoms or if you may have been exposed to COVID-19, visit www.covid19.lacounty.gov/testing. Learn more about COVID-19 tests at www.ph.lacounty.gov/covidtests.
"The best protection we have against COVID-19 infection is to get vaccinated, get boosted, and be vigilant in testing and in mask use," said City of West Hollywood Mayor Lauren Meister. "We're witnessing exceptionally high case numbers across the region and rising hospitalization rates are impacting our health care system. I urge community members to use free COVID-19 testing opportunities; awareness about testing positive can lead to reduced community spread. It's up to all of us to do what we can to take steps to safeguard our health and one another."
West Hollywood community members should first call a healthcare provider for a COVID-19 test. For people who cannot get a test through a healthcare provider, free testing options include:
Additional information, such as links to West Hollywood-area drug store chains offering vaccinations, is available on the City of West Hollywood's website at www.weho.org/coronavirus in the Vaccines and Testing Information section.
Officials from the LA County Department of Public Health continue to remind community members about the importance of getting vaccinated, getting boosted, getting tested, and masking-up; these remain critical to stop the spread. For details, visit www.VaccinateLACounty.com. For people without access to a computer or the Internet, or people with disabilities, an LA County call center is open daily from 8 a.m. to 8:30 p.m. to help schedule appointments at (833) 540-0473.
The City of West Hollywood remains in a declared local emergency in response to the coronavirus (COVID-19) outbreak. West Hollywood City Hall is open for in-person transactions by appointment. Visitors to City Hall and City facilities are required to adhere to vaccine verification requirements. Click here for details. To make an appointment, visit www.weho.org/appointments. City Hall services remain accessible by phone at (323) 848-6400 and via the City's website at www.weho.org. City of West Hollywood coronavirus information is available at www.weho.org/coronavirus.