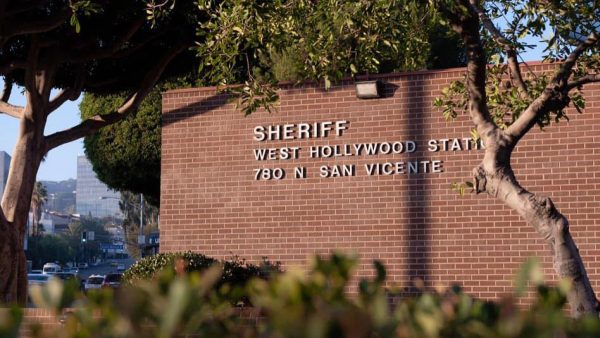 The West Hollywood Sheriff's Station at 780 N. San Vicente Blvd. might be re-located to make room for a mass transit facility.
City Council will consider a proposal Monday to have staff look for a potential new home for the station and research how much the move would cost.
The staff report suggests the new location "could operate as a greater community safety and services building, as opposed to just a Sheriff's station." City Council and the commissions have considered creating several non-law enforcement departments to deal with public safety over the past year, while reducing the budget and footprint of the Sheriff's Department.

Loading ...
"A new station is a wonderful idea," said Lt. Bill Moulder with the Sheriff's Department. "The current station we are in was built in 1980 and has seen better days.  Being co-located with other city partners is also a great idea to facilitate coordination and a strong community safety partnership."
The proposal hinges on what happens next with the "Northern Extension" of the Crenshaw/LAX light-rail line. If the Fairfax Avenue/San Vicente Boulevard hybrid alignment is selected as the route for the Northern Extension, a Metro station would be located at, or in the vicinity, of the San Vicente Blvd. and Santa Monica Blvd. intersection.
The report states:
As the city has been working with Metro there have been initial discussions about the potential for a transit-oriented public-private-joint-development project on the combined 10.6-acre Division 7 bus yard and Sheriff Station site. A transit-oriented joint development on the site would include a station for the Northern Extension that could include multiple access portals. Since a station would be located at the intersection, the city has had initial conversations with Metro about the potential for a transit-oriented joint development at the site. A potential development at the site could include a variety of land-uses and could also help to fund the construction of the station and/or a portion of the Northern Extension through a ground lease reflecting the potential residual land value, future property taxes dedicated to an Enhanced Infrastructure Financing District, or other revenue generated from the new development. 
The report continues:
Any transit-oriented joint-development on the site would need to include the replacement of the bus yard (likely under the new development) and allow for the continual operation of the current bus yard during construction. Due to the size of the bus yard it would not be feasible to relocate it either temporarily or permanently.