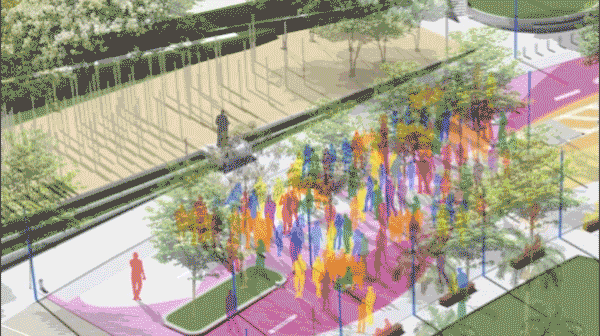 WeHo wants to block the road for events and rallies
The city's Urban Design & Architecture Studio has some eye-popping plans for San Vicente Blvd.
The idea is to equip the stretch between Santa Monica Blvd. and Melrose Ave. with infrastructure that would let the city easily convert it from busy street to, essentially, an oversized OutZone linking the Pacific Design Center and the park/library.
We're talking tree-lined sidewalks, canopies, programmable color changing string
lighting — and perchance some major traffic headaches.
But the plans are light years away from approval, and it's anybody's guess what the price tag might be. On Monday, Council sent it to the Transportation Commission for review — the first step in a very long, very iff journey to being built.

Loading ...