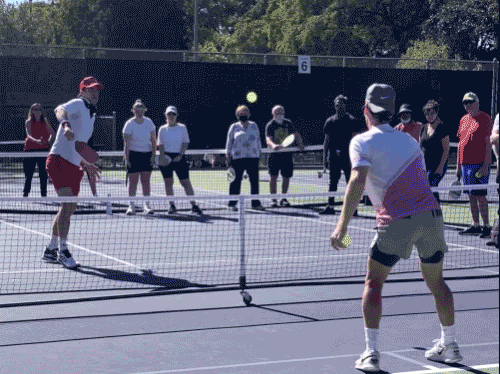 A big crowd braved Saturday's scorching temperatures to dip their toes into the trending sport known as pickleball.
More than 100 people showed up for the free clinic held by the City of West Hollywood at the Plummer Park tennis courts and hosted by former tennis pro Josh Osswald. 
Mayor Lauren Meister and Councilmember Lindsey Horvath were both on hand to get a taste of pickleball, which mixes up elements of badminton, tennis and ping pong and is played with a paddle
The clinic was the brainchild of Councilmember John Erickson and Mayor Pro Tem Sepi Shyne, both new fans of the sport. While the two were under the weather and unable to attend, their work in planning the event paid off, with pickleball proving to be a popular draw for a very diverse group of WeHo residents.
While new for many of those in attendance, pickleball traces its origins back to the mid-1960s, where it began as a backyard game for kids.